Grappling for medals
5 Chieftains qualify for bracket matches at Eudora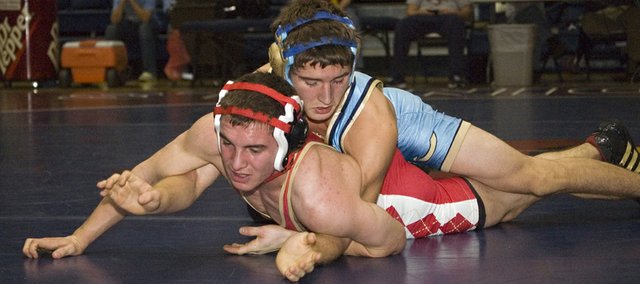 Photo Gallery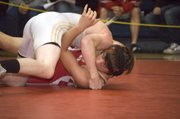 THS wrestling at Eudora
The Tonganoxie High wrestling team competed at the Eudora Tournament of Champions this weekend.
Eudora — Competing against more than 20 other schools at the Eudora Tournament of Champions this past weekend, Tonganoxie High's wrestlers knew it wouldn't be easy to send multiple grapplers to the championship bracket or finish in the top 10 of the standings, but that's exactly what the Chieftains did.
Five of 13 THS wrestlers advanced from their Friday pools to the Saturday brackets to earn top-eight finishes and lead Tonganoxie to an eighth-place finish in the team standings.
Newcomer Nick Pursel, a 160-pound junior transfer student who went 6-0 and finished first, led the Chieftains' medalists at Eudora and freshman Clayton Himpel (112 pounds) placed second with a 5-1 record. Sophomore Britton Price (135), who injured his tailbone Saturday and was unable to wrestle in his final two matches, and junior Adam Thomas both took sixth place and junior Matt Soetaert (145) finished eighth.
Although some THS wrestlers didn't advance to Saturday's tournament matches, coach Jeremy Goebel was pleased with the overall performance.
"My goal was to get them all in there (to tournament matches) but if we can just wrestle tough that's all we ask," Goebel said.
The coach was happy with the effort level of his team. "We've just got to work on the little things," he said.
Pursel said the Eudora tournament provided a challenging setting for him and his teammates.
"As far as level of competition goes, this is a tough one," Pursel said. "We've got kids from all class sizes (competing) … it's good to wrestle kids that are from all around rather than just 4A or whatever."
The two-day format, he added, made it more difficult.
"It's a long weekend and you've got to stay focused for the whole weekend," Pursel said. "It's really just draining."
Himpel entered the tournament just hoping to make the 112-pound eight-man bracket. He ended up wrestling in the finals. The freshman thought the tournament was a significant step up from Tonganoxie's first event of the season, the Kaw Valley League Duals, which took place a week earlier — "Just more intensity, more kids, more teams," Himpel said.
He agreed that the two-day process isn't easy, especially when making weight and maintaining it is involved.
"Sometimes you get to eat, sometimes you don't," Himpel said. "In my case, I didn't get to eat a whole lot, just tried to keep the fluids in me and make that weight that (Friday) night."
Goebel praised the freshman for his consistency on the mat while dealing with those outside factors.
"All the way through the tournament, he wrestled solid," Goebel said of Himpel. "There was a steady wrestling level from start to finish by him."
Thomas said the team's biggest motivating factor at Eudora was finishing in the top 10 of the team standings after placing 20th there last year. The other thing driving them individually was advancing to bracket matches.
"That was all of our goals this week at practice," Thomas said. "We just wanted to make it to the second day and we got there."
Though each wrestler is focused on what lies ahead for him, Thomas said, the Chieftains had a good time watching their teammates succeed.
"It's kind of exciting," he said. "We're all trying to achieve the same thing and working together to get there."
Himpel said the team is close.
"We came as a family, came as a group," he said. "Our five (placers) wrestled tough."
What stood out for Goebel at Eudora was the ability of Tonganoxie's less experienced wrestlers to find a way to win.
"Some of those younger kids, they had to beat some people they weren't supposed to beat and they did do that," the coach said.
With the biggest challenge of the December portion of the schedule complete, Goebel said there was one important lesson for the Chieftains to take with them from Eudora: "Just wrestle with the same tenacious attitude from the first minute all the way to the last minute."
Next up for THS is a 5 p.m. double dual Thursday at Santa Fe Trail. Beginning at 9 a.m. Saturday, the Chieftains will play host to the Tonganoxie Invitational.
Eudora Tournament of Champions
Friday and Saturday at Eudora
Team results: 1. Lansing, 247.5; 2. Mill Valley, 210.5; 3. Gardner-Edgerton, 179.5; 4. St. Thomas Aquinas, 177.5; 5. Chanute, 174.5; 6. Rossville, 168; 7. Baldwin, 163.5; 8. Tonganoxie, 155.5; 9. Spring Hill, 152; 10. Lawrence, 148; 11. Eudora, 145.5; 12. Shawnee Mission South, 142; 13. Effingham, 130.5; 14. Prairie View, 118.5; 15. De Soto, 114.5; 16. Fort Scott, 108.5; 17. Louisburg, 103; 18. Wellsville, 82; 19. Perry-Lecompton, 81; 20. Maize South, 73; 21. Paola, 72; 22. Sumner Academy, 60; 23. Blue Valley, 41.
THS individual results
(Weight class — wrestler, record, place)
112 — Clayton Himpel, 5-1, 2nd
119 — Dylan Yates, 1-2
125 — Justin Soetaert, 1-3
130 — Caleb Himpel, 2-2
135 — Britton Price, 3-4, 6th
140 — Adam Thomas, 3-5, 6th
145 — Matt Soetaert, 3-4, 8th
152 — Ian McClellan, 1-3
160 — Nick Pursel, 6-0, 1st
171 — Thomas Miller, 1-2
189 — Jonas Myers, 1-2
215 — Ryan Lynch, 2-2
Hwt. — Julius Coats, 0-3