Loaded Eudora tournament proves challenging for Chieftains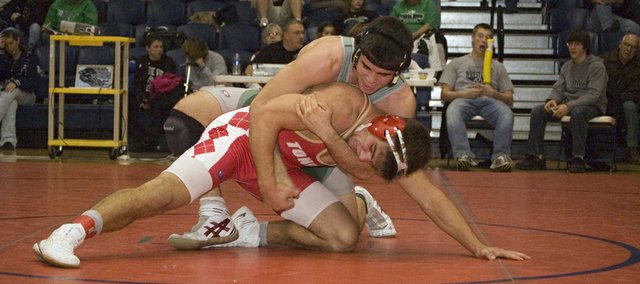 Photo Gallery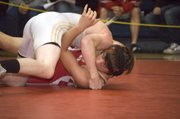 THS wrestling at Eudora
The Tonganoxie High wrestling team competed at the Eudora Tournament of Champions this weekend.
Eudora — The Eudora Tournament of Champions lived up to its name for a number of Tonganoxie High wrestlers this past weekend.
While five Chieftains were able to advance out of their pools and compete in the championship brackets, eight others didn't finish in a top-two pool slot and had to watch from the bleachers Saturday instead of suiting up and getting on the mat.
Even experienced leaders for THS, such as junior Caleb Himpel (130 pounds) and senior Justin Soetaert (125), didn't make it out of their pools. Himpel finished 2-2 and Soetaert was 1-3.
This weekend marked Himpel's third straight year of competing at the Eudora tourney and he said it ranks up with the most challenging events of the season.
"This is probably one of the better ones," Himpel said. "There's a lot of schools that you don't usually get to see."
Although familiar Kaw Valley League foes Lansing and Mill Valley were atop the team standings at Eudora (the Lions won and the Jaguars were runners-up), other schools such as Gardner-Edgerton, St. Thomas Aquinas, Chanute, Rossville and Baldwin were there, too, and all finished ahead of Tonganoxie in points.
"It's good competition and tough matches," Himpel said.
Despite the diverse talent and stiff competition, almost all of the Chieftains were able to win at least one match, which impressed Himpel.
"We've had a lot of our younger guys step up," he said.
Junior Ryan Lynch (215) was 2-2, while sophomore Thomas Miller (171), junior Jonas Myers (189), and freshman Dylan Yates (119) all went 1-2 and senior Ian McClellan (152) ended up 1-3.
Only sophomore Julius Coats, Tonganoxie's heavyweight entry who gave up a lot of weight to his opponents, was winless, going 0-3. Still, the way he competed while being outmatched in size and girth led THS coach Jeremy Goebel to award Coats with one of the team's "heart match of the week" awards.
Eudora provided a good testing ground for the Chieftains, Himpel said, because there was no shortage on quality wrestlers.
"Besides state and Basehor, this is probably the next hardest meet, so it's real good just to get competition and get a feel for what's out there," he said, adding that the team's showing will be a solid motivator going forward. "Most brackets have at least five state placers in them."