Point guard's 3 keys Tonganoxie girls 'W'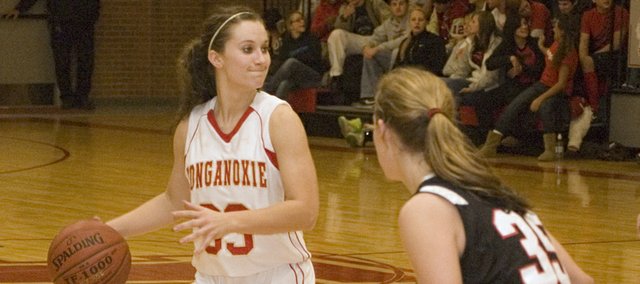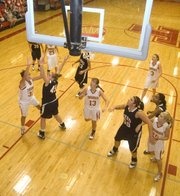 With a knock-down jumper from an unexpected source midway through the fourth quarter, the Tonganoxie High girls basketball team rallied from a deficit for its first win of the season, a 50-44 Tuesday home victory over Bishop Ward.
The Chieftains took their first lead of the fourth with 4:27 to play when sophomore point guard Hannah Kemp drained her first shot attempt of the game, a wide open three-pointer that gave THS (1-1 overall, 1-1 Kaw Valley League) a 42-40 lead. It was Kemp's first points of the young season.
"Hannah can hit a three," Tonganoxie coach Randy Kraft said. "But Hannah's trying to play the point guard and that's a pretty big responsibility."
When the Cyclones (1-4, 0-2) left her wide open, though, Kemp didn't mind taking the open look, which was a big part of her team's 13-4 run to close the game.
Junior guard Haley Smith hit a three in the final minute of the third quarter to give the Chieftains a 37-35 lead entering the fourth, but Ward opened the quarter with five unanswered points before THS went on its run, which began with a basket inside from senior center Tayler Miles.
Following Kemp's three-pointer, sophomore forward Jenny Whitledge scored six of her team-high 16 points in the final four minutes to lead Tonganoxie to a victory in its home opener.
Kemp also hit both ends of a one-and-one with 1:18 to go to finish with five points — all of them coming in the fourth quarter of a tight game.
Senior THS forward Danielle Miller grabbed a team-leading 10 rebounds and junior sub Tavia Brown provided a second-quarter spark with three points and five boards, helping the Chieftains enter the half down two points.
Tonganoxie plays host to Anderson County at 6 p.m. Friday.
Score by quarters
BWHS 16 10 9 9 — 44
THS 11 13 13 13 — 50
Tonganoxie scoring
Haley Smith 4-12 0-0 10, Tayler Miles 4-7 0-2 8, Danielle Miller 2-7 2-5 6, Jenny Whitledge 4-11 8-13 16, Hannah Kemp 1-1 2-3 5, Amanda Holroyd 0-6 0-0 0, Emma Stilgenbauer 0-2 0-0 0, Tavia Brown 1-3 1-2 3, Madee Walker 1-1 0-0 2.