Smith: Wrestler has to make up for mistake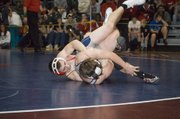 Eudora — The stage was set for Tonganoxie High junior wrestler Nick Pursel to make his program proud.
The 160-pounder was in the center circle, wrestling in a title match at the Eudora Tournament of Champions.
A victory would make him the Chieftains' lone first-place medalist and maintain his undefeated record for the season.
Pursel accomplished all those things. The equally strong and swift grappler defeated Mill Valley's Andrew Van Holland to secure a gold medal.
Then, in the briefest of moments, a lapse in judgment sullied everything. The instant the match was over, Pursel popped up onto his feet and gave a quick bow toward the bleachers on each side of the Eudora gymnasium. A complete disregard for sportsmanship marred his victory, his gold medal, his 11-0 record.
Although clearly disappointed and angered by Pursel's actions, THS coach Jeremy Goebel declined to comment about them. His displeasure with the wrestler's me-first celebration, however, was abundantly clear.
Minutes after receiving his medal, Pursel had an opportunity to explain himself and his gesture that disrespected both his opponent and his program.
"I don't know if my word really matters, but I wasn't meaning to offend anyone," Pursel said. "I'm just really excited. I've been working really hard and I came out and everything was clicking. Every single move I was hitting."
Pursel is new to the Tonganoxie program. He transferred to THS after attending a boarding school in Utah last year. While in Utah, he just trained. He couldn't compete. Once he won the championship match, he was excited with his performance and let the moment get the best of him.
"I just got so emotionally charged," he said. "I just went over the top."
It's good to know Pursel understands he was in the wrong. Though he just arrived on the scene, he is already a leader and other Chieftains look to him for guidance and tutelage. The last thing those up-and-coming wrestlers need is a role model who would shine the spotlight on himself after a big win. If he wants to lead this team, he must understand that Goebel won't tolerate unsportsmanlike behavior.
Pursel said he was sorry and that he learned an important lesson.
"It's kind of one of those things," he said. "I don't know how people are gonna react to what I do, but I know I've got to be more careful."
Pursel needs to wave goodbye to theatrics in the future and understand there are boundaries on the mat. He said he knows he made a mistake. Now he will have to prove that statement true with his actions. Pursel said his first way of showing his remorse will be running extra at practice as punishment.
"I think I kind of owe that to coach," he said. "We did a lot of work here this weekend and that could've tarnished it."
Admitting that he let Goebel and his teammates down was the right move for Pursel, a talented wrestler and a bright young man. His next step in making it up and regaining their trust will be making sure nothing even close to this ever happens again. Only then will he truly be a leader and a respected representative of the Tonganoxie wrestling program.