THS

FCCLA

students leading gift basket drive
Proceeds to help families in need during the holidays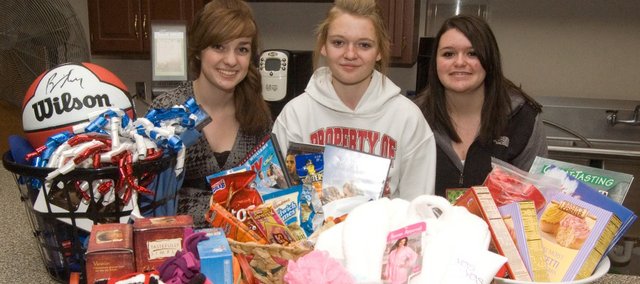 Let the bidding begin at Tonganoxie High School basketball games.
Chieftain fans can bid on gift baskets at tonight's basketball games (Dec. 14) and will be able to bid during games Friday and Monday in the THS west campus' Chieftain Room.
Proceeds will go toward Team Tongie in helping needy families this holiday season.
THS freshmen Ashley Hood, Larissa Willburn and Kelsey Lawrence are combining a Family, Career and Community Leaders of America project with a way to help people in need.
Hood said it's a service project for FCCLA and a way to promote the organization, but it also helps Team Tongie and familes during Christmas time.
The students are working with Triple A classes at THS, which are homeroom periods for high school students. Classes chose basket themes and included items to be auctioned off during the games. The silent auction ends at halftime of each boys varsity game and then winning bidders are announced during the second half of each of those games.
Basket themes include a KU basketball basket with a Bill Self autographed basketball and other KU memorabilia , another called Movies and Munchies, which has DVDs and movie snacks and another with a spa theme. Another has a winter theme with gloves, hot cocoa and soup mixes, while a baking themed basket has cookbooks, cake mixes and cookie cutters. There's also a Night by the Fire theme that one of the girls' Triple A classes concocted, which has blankets, marshmallows and other by-the-fireplace themed contents.
If all Triple A classes participate, there would be around 45 baskets on which to bid, with proceeds making needy famlies' Christmases a bit brighter.
"We just wanted to help out because it's Christmas," Lawrence said.
Anyone wishing to donate items for a basket or a complete basket to be auctioned can contact the high school at (913) 845-2654 and ask for Pam Lamb.