O Christmas trees
Farms plan to hang up saws in coming years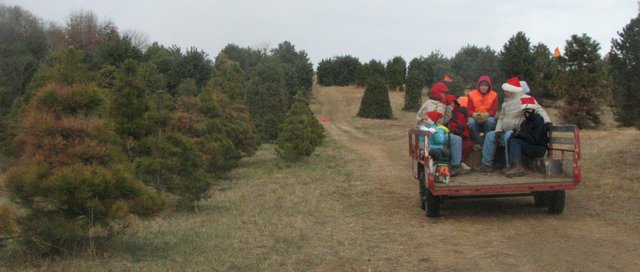 Every Christmas season, the Webb family of Gladstone, Mo., makes the trek out to Wilderson Tree Farm in Basehor to wander the fields, search for the perfect Christmas tree, grab a saw and cut it down.
It's a tradition the family has had for eight years, but it may not last for eight more.
That's because Chuck Wilderson, owner of Wilderson Tree Farm at 14820 Parallel in Basehor, is planning to phase out the business during the next five years. The farm has been a Basehor mainstay since it began offering Christmas trees in 1982.
"I'm 75, so I'll be 80 then," Wilderson said. "It's getting a little harder to manage everything. The December weekends are just so busy and stressful."
Another tree farm, in Linwood, will close after this season, leaving Wilderson's farm the only one left in Leavenworth County to his knowledge, he said. It's already the only Leavenworth County member of the Kansas Christmas Tree Growers Association.
More and more tree farms in the Kansas City area have shut down in recent years as owners have grown too old to handle the workload and customers have turned to artificial trees, Wilderson said.
That trend may have actually been in the Basehor farm's benefit, he said, because it has drawn customers from a wider range than ever before, including from Missouri and as far north as Atchison.
"People come out here and say, boy, they're sure glad they found a farm that's open," Wilderson said.
Mike Webb, of Gladstone, said the family made the trip to Basehor each year because of the friendly staff, the free hot chocolate, the quality pine trees and the family experience of riding a haywagon out to the fields and picking out a tree themselves.
"And we get to use the flags," his 7-year-old daughter Maddie added, referring to the small orange flags that the farm provides so customers can stick them in the ground to mark their favorite trees while looking around.
That family experience, along with a location not too far from Leavenworth or the Kansas City area, is why the farm has been able to hang on to a solid customer base while other farms have gone away, Wilderson said.
"Kids don't have the opportunity to get out in the country and tromp around like they used to," he said.
The Wilderson farm started in 1976, when Chuck's son David, 14 at the time and an aspiring forester, planted 1,000 Austrian pine seedlings on one acre of land. The family began harvesting trees in 1982, enabling David to pay for his college education at Kansas State University. The operation grew to about 13,000 Austrian, Scotch and White pine trees on 18 1/2 acres at its peak.
The farm now has between 3,000 and 5,000 trees for sale, plus several hundred that are still maturing. The farm also imports some pre-cut Fraser and Balsam Fir trees, which can't survive hot Kansas summers, from Wisconsin.
Wilderson stopped planting new trees three years ago in anticipation of his retirement.
David Wilderson still drops by the farm on weekends to do some work.
"He's still my best help," Chuck said.
The rest of the labor, including the cutting and preparing of trees for customers as well as care for the farm during the spring and summer, is provided by local high school and college students.
Employee Patrick Rachford, a junior at Tonganoxie High School, said the job was nice despite the cold.
"I just like the whole atmosphere of being in the woods," Rachford said.
The labor-intensive nature of a tree farm is why the Bishop's Pine Crest farm in Linwood stopped planting trees six years ago, said Myrna Bishop, who owns the farm with her husband, Ed. She said that as she and her husband aged into their 70s, they decided the work had become too much of a burden.
She said profits on the farm were never huge, either, with the money poured into maintaining the farm and advertising.
"It's just too doggoned expensive," Bishop said. "There's not enough profit. And we're old."
Bishop said she'd also noticed the decline in the tree farm business around Kansas City. She suggested that aging farm owners and, of course, artificial trees were major causes.
Wilderson and Bishop both noted that some farms closer to Kansas City became more valuable as potential residential space than as tree farms. One major farm in Overland Park, Warren's Christmas Tree Farm, closed in 2004 when its owners sold the land to a housing developer.
The Wilderson farm has gained a few customers from the Bishop farm as it prepares to close, Wilderson said, though tree sales have declined slowly but steadily the last several years. He said the farm was likely to sell about 575 trees this season, compared to an average number of about 600 in recent years.
The farm still has plenty of dedicated customers, he said, including one Kansas City, Mo., family that has visited every year since it opened 28 years ago. But the work is too much, he said, and unless David or someone else volunteers to take over, the farm will probably sell its last trees in about five years.
"It's not a year-round job, but it does take quite a bit of work," Wilderson said. "You just reach a point where you've got to phase out."