PG

leads

THS

boys to 1st victory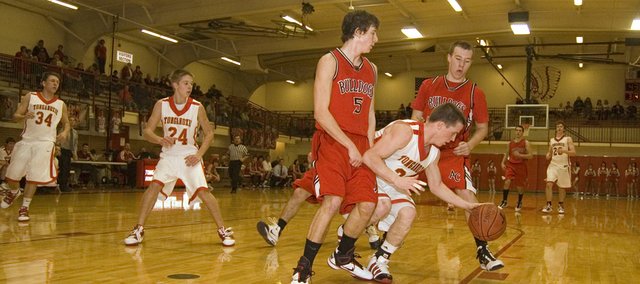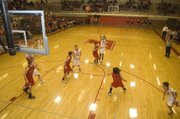 Senior point guard Jeremy Carlisle spearheaded a crucial second-quarter run, leading the Tonganoxie High boys basketball team to its first win of the season Friday, a 47-29 defeat of Anderson County.
The Chieftains' offense was sluggish in the first quarter, when they scored six points, and it looked like more of the same in the opening minutes of the second before Carlisle asserted himself, leading THS on a 12-2 run.
The senior guard scored six consecutive points for Tonganoxie (1-2) to give his team a 12-11 advantage. Carlisle then set up sophomore sub John Lean for a transition layup before looking for his own shot again and scoring on a drive.
Lean finished off the Chieftains' run with a steal and a lay-in and he and Carlisle combined to score all 14 of their team's second-quarter points.
THS coach Shawn Phillips said his senior point guard established an important aspect of Tonganoxie's attack with his penetration.
"We have to do a better job of getting guards into the paint, and Jeremy did a good job of using a ball screen to get into the paint or breaking a kid down off the dribble and getting to the rim and he had a pretty good game overall," Phillips said of Carlisle, who racked up 18 points, seven assists and six rebounds against the Bulldogs (1-4).
THS led by 11 entering the fourth quarter and put the game out of reach with a 10-3 run that featured two buckets apiece from Dane Erickson and Dylan Scates, plus an easy transition layup for Austin Vickers.
Tonganoxie concludes its December schedule at 8:30 p.m. Monday by playing host to Metro Academy.
Score by quarters
ACHS 7 6 11 5 — 29
THS 6 14 15 12 — 47
Tonganoxie scoring
Dane Erickson 5-8 2-2 12, Brady Waldeier 0-1 0-0 0, Dylan Scates 3-11 0-0 7, Jeremy Carlisle 7-13 2-2 18, Austin Vickers 2-5 0-0 4, Ben Williams 1-1 0-0 2, Colby Yates 0-2 0-0 0, Eric McPherson 0-0 0-0 0, John Lean 2-3 0-0 4, Dylan Jacobs 0-1 0-0 0.