Therapeutic snowman towers over rural road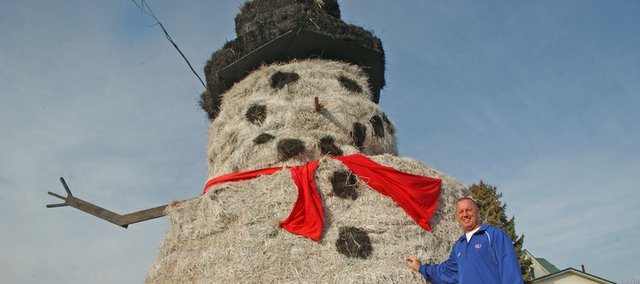 There's more to the hay bale snowman Rex Elliott crafted along a rural Leavenworth County road than meets the eye.
Not that the sculpture isn't an eyeful as it reaches 20 feet from the ground at the tip of its black top hat, but its current holiday form masks it original design as a Halloween pumpkin.
Also unnoticed is the motivation behind its construction. Elliott said it was among the therapies he has undertaken since losing his 17-year-old son to a heart condition in April 2009.
"Ever since Jeremy Elliott died, I've occupied my time working on the farm, landscaping or working on my sculptures," he said. "This is the time of year for sculptures.
"I just have to stay occupied and keep my mind occupied. I happened to let the grandkids know I was going to do a snowman, so I had to carry through with it."
The sculpture at 21969 251st Street started as a pumpkin of three round bales with square bales and loose hay stuffed in cervices. After Halloween, Elliott transformed it into its current form by adding second round bale on the base and topping it off with a stove-top hat of square bales stacked on plywood. He then added arms, nose and scarf and painted the snowman the correct colors.
"I've got about $500 in painting that thing," he said. "It's not quite as white as I'd like him to be, but it'll have to do."
It's now finished save for the red bird Elliott intends to add near the head.
The pumpkin required about four days to complete and the transformation took him and his niece, Bee Elliott of Leavenworth, another three to four weeks of on-and-off work, Elliott said.
Their efforts haven't gone unnoticed.
"A lot op people will stop and run up to it to have a picture taken with it," said Sally Swanson, who lives across the road from the snowman. "It's really quite a sight to see. It has a big tall black hat on it and a big red scarf.
"It is really cool."
The sculpture's first incarnation came as a jolt to motorists on the gravel road that intersects with Kansas Highway 16 about a mile east of the Jefferson County line, Elliott said.
"Pretty much when the pumpkin arrived, we almost had wrecks at the top of the hill," he said. "Now, they've basically got used to something being there."
The snowman will stay in place through the winter or until it topples over, Elliott said.
"I love the public to have something nice to look at," he said. "I've always been good at building stuff. It didn't matter what, I could build it."