Tonganoxie girls blow out
ACHS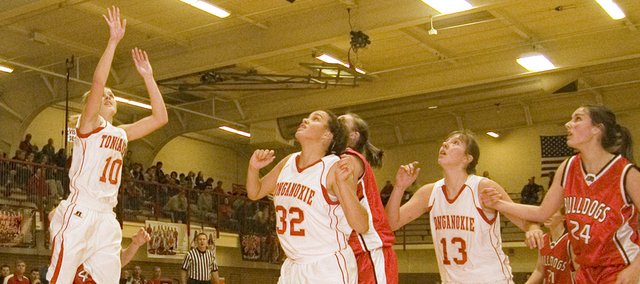 With a pair of big second-quarter runs, the Tonganoxie High girls basketball team blew open its Friday home game against Anderson County and rolled to an easy, 63-30 victory.
The Chieftains were only up five after a quarter but their offense started clicking and ACHS (0-5) simply couldn't keep up.
The first two minutes of the second quarter, THS (2-1) began hitting its stride — Jenny Whitledge stroked a baseline jumper, Danielle Miller scored on a fast break, Tavia Brown put in a bucket down low and a steal and layup by Whitledge capped a quick 8-1 spurt.
Just getting started, Tonganoxie closed the first half on a 15-3 run during which Amanda Holroyd scored eight points and Whitledge put up seven.
Chieftains coach Randy Kraft was pleased to see his team pull away with layups and open looks.
"Early in the first quarter, we were making it difficult," Kraft said, adding that lack of offensive flow had been a recurring problem in Tonganoxie's first two outings. "We kept our spacing, we helped each other get open and moved the ball better — swinging it from side to side."
The game never was close in the second half and sophomore guard Madee Walker came off the bench and filled the stat sheet, going 4-for-5 from the floor with two 3-pointers, four rebounds and two assists.
Freshman forward Emma Stilgenbauer led the Chieftains with nine rebounds. Sophomore point guard Hannah Kemp had a team-high four assists.
At 7 p.m. on Monday, THS plays host to Metro Academy.
Score by quarters
ACHS 6 8 7 9 — 30
THS 11 23 12 17 — 63
Tonganoxie scoring
Haley Smith 3-5 1-2 8, Tayler Miles 2-3 0-0 4, Danielle Miller 4-8 1-3 9, Jenny Whitledge 5-12 5-6 15, Hannah Kemp 1-7 0-0 2, Amanda Holroyd 4-10 1-2 12, Emma Stilgenbauer 0-3 0-0 0, Madee Walker 4-7 1-1 11, Lindsey Cox 0-1 0-0 0.