Big quarter vs.
ACHS

shows Tonganoxie girls' potential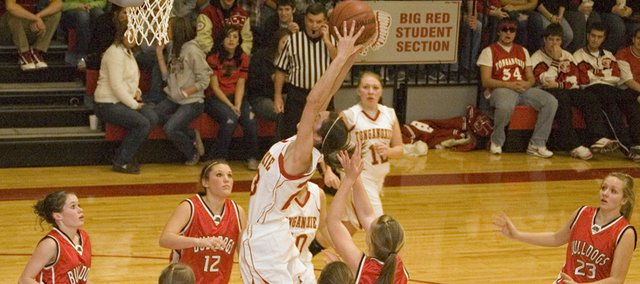 For an eight-minute stretch Friday night, the Tonganoxie High girls basketball team took its play to another level. The Chieftains went 9-for-14 from the field in the second quarter, passed out seven assists and outscored Anderson County by 15 on their way to a more than comfortable 63-30 home win.
THS coach Randy Kraft said it might have been the best basketball his team has played this season — in a game or at practice. Asked if he had seen that kind of performance out of the Chieftains at any point, he smirked and said: "Not often enough."
What Kraft saw in that outstanding second quarter, led by Jenny Whitledge's 11 points and Amanda Holroyd's eight points, was a possible sign of what THS can become.
"I keep telling them that we're a long ways from where we're capable of being, and it's mostly us," the coach said. "It's not our opponents. We want to play better together and recognize things easier."
They picked up their pace and scoring with improved passing and spacing as five different players had at least one assist — Whitledge and Hannah Kemp dished out two, while Holroyd, Haley Smith and Emma Stilgenbauer each passed one — and four players scored — Danielle Miller and Tavia Brown each had a basket to go with the 19 combined points from Whitledge and Holroyd.
"We got in a rhythm. Our spacing was better, we moved better," Kraft said. "When we let the game come to us, obviously the result's a lot better."
Holroyd said Kraft often brings up offensive spacing and movement and the team finally was able to execute what he had asked of them.
"It just clicked for us in the second quarter," she said.
Friday was a breakthrough for Holroyd, who had been aggressive on offense but finally got some shots to fall after going 0-for-9 in her team's first two games. She said it felt good to bust out of the slump with a 12-point outing that included three 3-pointers but added she and Whitledge were unaware of their exact production in the second quarter, when they took over.
"We were just in tune with the game," Holroyd said. "We were trying to keep our lead and keep going."
Of course, they weren't the only players producing in the blowout. Stilgenbauer had a team-best nine rebounds off the bench, Madee Walker scored all 11 of her points in the final nine minutes of action, Miller scored nine points, Smith added eight and Kemp assisted on four baskets.
That's the kind of balance Kraft wants.
"We got good minutes out of most everybody we put out there at different times and the game should be like that," he said.
If one player is the focus of an opposing defense, the coach added, others need to pick up the slack.
"That's kind of what happened tonight," Kraft said. "It allowed some other kids to step up their game."