Late turnovers costly for
THS

girls in 'L' to Metro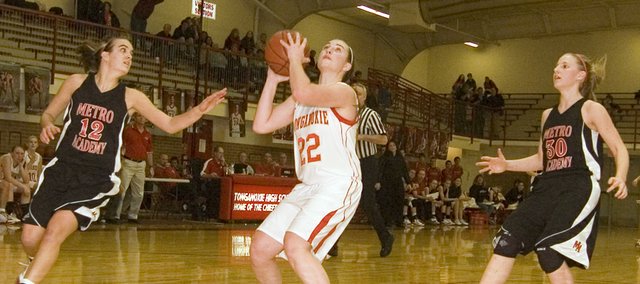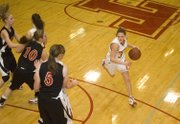 The Tonganoxie High girls basketball team went scoreless in the final two minutes and lost, 50-47, to Metro Academy on Monday.
Chieftains senior forward Danielle Miller stole the ball near mid-court and put in a layup with just more than two minutes left to give her a team-high 18 points, but THS couldn't score for the remainder of the game.
Further complicating things late for Tonganoxie (2-2) were a pair of turnovers in the final 15 seconds following two separate free-throw misses by Metro's MacKenzie Gripe.
Chieftains coach Randy Kraft said nothing went his team's way in crunch time.
"Basically, in the last two minutes they're just hanging on to the ball and we're trying to get steals. We can't, we send them to the line, they miss, we turn it over," Kraft summarized. "We just never gave ourselves a chance. That latter part of the game, that was all on us. You hate losing a game like that and not getting a shot at the basket."
Gripe was fouled again with one second remaining and hit both of her free throws to put the Mavericks (12-3) up three.
Following Gripe's makes, THS somehow was able to get off a shot before the final buzzer sounded. Amanda Holroyd caught an in-bound pass in the backcourt and threw it ahead to Hannah Kemp, who hoisted a three before the buzzer, a shot that certainly would have stirred up controversy had it gone in, considering there was :01 left on the clock when Holroyd caught the initial pass.
So would the shot have counted?
"I have no idea," Kraft said. "I'm trying to call time out, I think that's why it didn't start."
However, the officials didn't see him signaling for it and the game ended without much controversy.
The Chieftains took a three-point lead early in the fourth quarter thanks to a 5-0 run by freshman forward Emma Stilgenbauer.
THS led by seven entering the second quarter by dominating the offensive glass in the first eight minutes and scoring 10 second-chance points — six from Jenny Whitledge and two apiece from Haley Smith and Miller.
Considering Tonganoxie led by 11 early in the second quarter, Kraft said it was important for the team to find consistency. He said the Chieftains looked good at times but couldn't maintain it.
"We make a lot of mistakes, I mean that's pretty evident. We play well at times, we don't at times," he said. "We've got to learn and grow as a team and learn how to finish games off."
Tonganoxie is idle until Jan. 4, when the team travels to Bonner Springs.
Score by quarters
MA 13 18 10 9 — 50
THS 20 9 10 8 — 47
Tonganoxie scoring
Haley Smith 2-6 0-0 5, Tayler Miles 1-7 1-1 3, Danielle Miller 8-11 2-6 18, Jenny Whitledge 7-10 1-4 15, Hannah Kemp 0-3 0-1 0, Emma Stilgenbauer 2-6 1-2 5, Amanda Holroyd 0-4 0-0 0, Tavia Brown 0-0 1-2 1.