THS

guards get inside, leading boys to 1st 'W'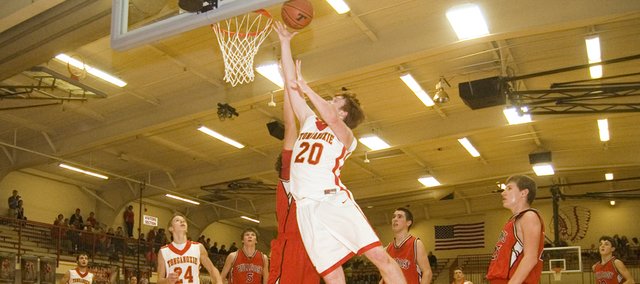 In the days of practice leading up to the Tonganoxie High boys basketball team's Friday home game against Anderson County, coach Shawn Phillips kept telling his guards they had to drive to the paint instead of standing around on the perimeter.
Once the Chieftains' perimeter players started finding their way inside against the Bulldogs, it helped them earn a 47-29 win, their first of the season.
"We've got to have another presence in the paint besides Dane (Erickson, starting center) and that doesn't necessarily have to be another post player," Phillips said.
In the game's opening minutes, the THS guards started slashing and attacking the lane off the dribble. However, there weren't immediate results in the form of points on the scoreboard as some drives ended with errant attempts.
"We missed a few shots early and I think we kind of got a little gun shy but eventually we figured it out," Phillips said after watching his team score just six first-quarter points.
Specifically, senior point guard Jeremy Carlisle began getting quality looks off of penetration in the second quarter, when he scored 10 of his game-high 18 points.
"I've been trying to assert myself offensively all year and I've had a little difficulty," Carlisle admitted, referring to his 20 combined points in his first two outings. "Today I came in and was taking the ball to the hole. I didn't really care if I was getting outside shots. I wanted to get my guy in the air off a pump fake and just drive and see what I can get."
His big second quarter, the point guard said, was a result of the ACHS defense focusing on Erickson, who still finished in double figures with 12 points.
"Dane was getting doubled or even triple-teamed in the first half and I knew somebody had to step up," Carlisle said. "I was trying to get guys open looks and they weren't hitting them, so instead of passing the ball there, I just took a couple of more dribbles and did what I could to get the ball in the lane."
His main regret, even though he finished 7-for-13 from the floor, was a few missed opportunities.
"If I would've finished from six feet and in, I would've had 26 (points) easily," Carlisle said. "I missed two layups and two pull-ups on the fast break from like four feet."
Phillips agreed that Tonganoxie missed too many easy shots inside, and Carlisle wasn't the only one having that problem.
"If we finish two-foot shots, I think we win this game by a larger margin than what we did — a significantly larger margin," the coach said.
Still, an 18-point win was possible because of the team's defense, which held the Bulldogs to just 13 first-half points, as well as five in the fourth quarter.
"Our defense was pretty good. We didn't rebound it as well as I would've liked," Phillips said, noting ACHS had lots of second-chance looks. "Our first-shot defense, I thought, was very good."
Getting in the win column for the first time this season, wasn't too bad either.
"It's always good to get the first one. Hopefully, it's not the last one, though," Phillips quipped, adding the team needs to develop and keep improving. "We've got guys that can do it, it's just a matter of putting all the pieces together, and we need a little more consistency."