Tonganoxie boys earn clutch win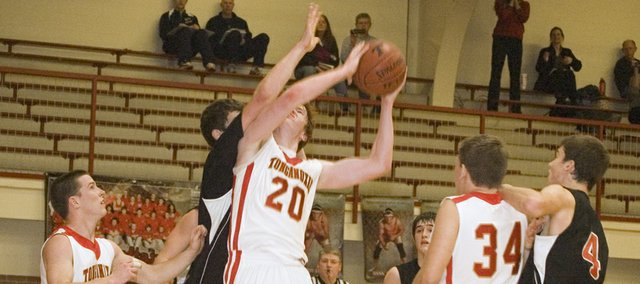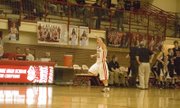 With clutch plays on both ends of the floor in the final seconds, the Tonganoxie High boys basketball team pulled off a 57-56 victory over Metro Academy on Monday.
The Chieftains trailed by one in the final minute after the Mavericks' Dalton Hardage buried a 3-pointer with 27 seconds left, but THS junior center Dane Erickson grabbed an offensive rebound and was fouled 12 seconds later, sending him to the charity stripe, where he collected himself and drained a pair of free throws.
After scoring 11 of his team-leading 19 points in the fourth quarter and getting the two biggest points of the night under pressure, Erickson said he tried to block out the weight of the moment when he was at the line.
"It's pretty difficult to do," he said. "I haven't had that much experience with it, so I just tried not to think about it. I guess it worked out."
After Erickson's free throws gave his team the lead, Metro (15-4) worked the ball around in the final seconds looking for an open shot and when it appeared the road team had found one, Tonganoxie senior Jeremy Carlisle swatted a potential go-ahead jumper in the left corner and time expired.
Erickson praised his teammate for the game-saving stop.
"That was huge," Erickson said of Carlisle's block. "He's a great senior leader. He stepped up and made the play at the right time and gave us a win."
It wasn't until the final minute of regulation that the Chieftains (2-2) took their first lead of the fourth quarter, when senior guard Dylan Scates scored a bucket in transition.
THS coach Shawn Phillips was happy to see his players willing to step up in a tight game.
"Something we've really stressed with our kids is we're looking for playmakers, because we've had too many guys so far this year that want to be a role player and you can't have everybody be a role player," the coach said. "It's nice that they want to do what's good for the team, but somebody's got to want the basketball and be able to make plays when it matters and we had, at times, several different people who did."
Tonganoxie entered the fourth trailing by four and the deficit grew to eight before Erickson led the home team on a 9-1 run in less than two minutes.
The center's two free throws with 5:30 to play put THS down six. The next time down the floor, he scored and drew a foul, setting up a three-point play.
Carlisle stole the ball in the backcourt and laid it in near the 5:00 mark and Erickson sank a left-handed jump-hook with 4:10 to play that tied the game at 45.
Metro took the lead on three occasions in the final four minutes but THS responded with a tying or go-ahead basket each time.
Phillips said coaching such a tight game is strenuous, but he was proud of how the team responded.
"It's always tough, because there were stretches in the game where we played really well and then there were stretches where we played really bad, and that's why I get more and more gray hair every year," he said. "It's good that our kids kept fighting because it would've been really easy when we were down (eight) in the fourth quarter to kind of put our tail between our legs and let them finish us off, but our guys kept fighting."
The Chieftains are idle until Jan. 4, when they travel to Bonner Springs.
Score by quarters
MA 11 10 16 19 — 56
THS 5 22 6 24 — 57
Tonganoxie scoring
Dane Erickson 6-13 7-10 19, Brady Waldeier 0-1 0-0 0, Dylan Scates 4-7 1-2 11, Jeremy Carlisle 5-11 0-0 10, Austin Vickers 3-6 1-1 8, Ben Williams 0-1 0-0 0, Colby Yates 2-3 2-2 7, John Lean 1-3 0-1 2.