Tonganoxie wrestlers take 2nd at home tourney
Photo Gallery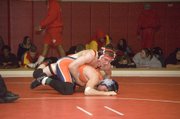 Chieftains 2nd at home wrestling tourney
With five wrestlers in the finals and two champions Saturday at the Randy Starcher Memorial Wrestling Invitational, the Tonganoxie High wrestling team took second place at its home tournament on Saturday.
The Tonganoxie High wrestling team couldn't quite topple a strong Class 5A program Saturday at its annual home tournament, the Randy Starcher Memorial Wrestling Invitational, but the Chieftains won two weight classes and finished second in the team standings.
Shawnee Heights, No. 8 in Class 5A in the most recent Kansas Wrestling Coaches Association rankings, won the team title with seven wrestlers finishing first in their respective weight classes, but host THS had a pair of champions, freshman Clayton Himpel at 112 pounds and sophomore Britton Price at 135. Both wrestlers were 3-0 at the tournament.
Himpel and Price weren't the only Tonganoxie wrestlers to reach the title round, though. Senior Justin Soetaert (125) as well as juniors Adam Thomas (140) and Matt Soetaert (145) finished second.
The Chieftains also had two third-place finishers: Dylan Yates (119) and Jonas Myers (189).
Earlier in the week, THS won a pair of duals on Thursday at Santa Fe Trail, defeating SFT, 36-31, and Ottawa, 58-18.
With the winter break, Tonganoxie is idle until Jan. 8, when the team travels to the Louisburg Invitational.
Randy Starcher Memorial Wrestling Invitational
Saturday at Tonganoxie
Team scores: 1. Shawnee Heights, 341; 2. Tonganoxie, 259.5; 3. Doniphan West, 186; 4. Piper, 161; 5. Atchison, 155.5; 6. Blue Valley West JV, 105.5; 7. Louisburg, 105; 8. Olathe Northwest JV, 59; 9. Bishop Ward, 49; 10. Oskaloosa, 38; 11. Jayhawk Linn, 22.
Weight class champions
103 — Ethan Beach, Piper
112 — Clayton Himpel, Tonganoxie
119 — Kenny Gulley, Atchison
125 — Aspen Kmice, Shawnee Heights
130 — Gabby Spear, Doniphan West
135 — Britton Price, Tonganoxie
140 — Gabe Martinez, Doniphan West
145 — Marshall Hall, Shawnee Heights
152 — Collin Zwart, Piper
160 — Tyler Willis, Shawnee Heights
171 — Nick Meck, Shawnee Heights
189 — Donnie Lockhart, Shawnee Heights
215 — Brandon Flanagan, Shawnee Heights
Hvt. — Derek Holley, Shawnee Heights
THS individual results
(Weight class — wrestler, record, place)
112 — Clayton Himpel, 3-0, 1st
119 — Dylan Yates, 2-1, 3rd
125 — Justin Soetaert, 2-2, 2nd
130 — Caleb Himpel, 2-2, 4th
135 — Britton Price, 3-0, 1st
140 — Adam Thomas, 3-1, 2nd
145 — Matt Soetaert, 3-1, 2nd
152 — Luke Carey, 2-2, 5th
160 — Ian McClellan, 1-2, 4th
171 — Thomas Miller, 2-2, 5th
189 — Jonas Myers, 3-1, 3rd
215 — Ryan Lynch, 2-2, 5th
Hvt. — Hank Somers, 2-3, 5th