Smith: New sub makes name for himself
Lean solid in
THS

hoops debut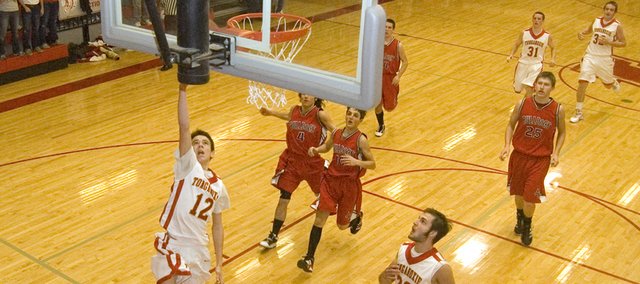 I'll be honest. When a not particularly tall, wiry kid wearing No. 12 entered in the second quarter for the Tonganoxie High boys basketball team against Anderson County on Friday, I had to consult my program and peruse the roster to figure out a minor detail: What's this guy's name?
It was John Lean, a 5-foot-9 sophomore guard who, in the midst of a one-possession game, was about to play his first varsity minutes.
Quickly, Lean went from no-name to key contributor, converting a pair of fast-break buckets in a critical second-quarter run that led to a 47-29 THS victory.
The Chieftains were only up 12-11 in the final minutes of the first half before Lean scored his first varsity basket on a transition pass from Jeremy Carlisle. A couple minutes later, he picked off an ACHS pass and took it down the floor for another layup, giving his team a seven-point lead.
Lean looked pretty composed for a varsity newbie. His secret, apparently, was being clueless.
"I wasn't nervous, because I wasn't expecting to go in," he said. Grabbing a rebound right off the bat put him at ease, as did the reaction to his baskets. "The crowd kind of got me more comfortable, because they were into it," Lean added.
THS coach Shawn Phillips, looking for added bench production, decided to insert Lean early on Friday, even though he had played exclusively for the junior varsity in Tonganoxie's first two games. Phillips got exactly what he was hoping for — a spark.
"Actually, it doesn't surprise me, because he's a kid in practice that seems to always be around the basketball. He's got a knack for getting the ball in the hole," the coach said. "He's not the biggest and most physically imposing guy, but he just has a feel for the game, so we decided we were gonna give him a try and see how it worked and he played well."
Carlisle, Tonganoxie's senior leader who combined with Lean to score all of the team's second-quarter points and was a recipient of a Lean assist in the third quarter, was impressed with the sophomore.
"It's great to see any young guy come off the bench and have production, especially a guy who has the potential John does," Carlisle said. "John is smart, he knows the game of basketball and he's got a natural athletic ability to get the ball to the rim and shoot from the outside."
Lean said his four-point debut was a great night — "I got a couple of points and we got our first win in my first varsity minutes."
On top of that, he's made a name for himself.