Tourney team-building
Tonganoxie wrestlers growing, winning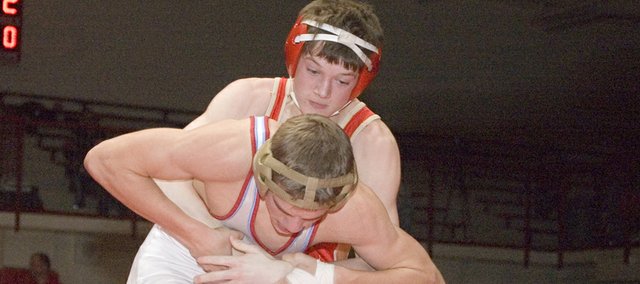 Photo Gallery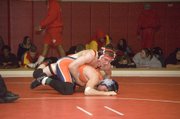 Chieftains 2nd at home wrestling tourney
With five wrestlers in the finals and two champions Saturday at the Randy Starcher Memorial Wrestling Invitational, the Tonganoxie High wrestling team took second place at its home tournament on Saturday.
With a tone-setter at the top of its roster and a group of guys behind him who can keep the momentum going, the Tonganoxie High wrestling team has become a competitive group driven as much by team results as individual performances.
The Chieftains sent five wrestlers to the finals on Saturday at their annual home tournament, the Randy Starcher Memorial Wrestling Invitational, and all 13 grapplers who suited up finished in the top five as THS took second place in the team standings.
The bulk of Tonganoxie's success came in the lightweight and middleweight classes. Freshman Clayton Himpel (112 pounds) and sophomore Britton Price (135) won gold medals, senior Justin Soetaert (125) and juniors Adam Thomas (140) and Matt Soetaert (145) finished second and freshman Dylan Yates (119) took third.
Chieftains coach Jeremy Goebel said Himpel does a good job of setting a positive vibe for the squad.
"Clayton, you know, he starts things off for our team. He's the first one to get the ball rolling," Goebel said. "I think as a group and as a team, all of us pick it up a little bit more once someone starts it off. Each person's willing to go out there and work hard, not only for themselves, but for the team."
Himpel, who went 3-0 to win his first varsity tournament title, said he was happy with the team's showing at home, because team points were a focus all day as THS chased eventual champion Shawnee Heights, No. 8 in Class 5A in the most recent Kansas Wrestling Coaches Association rankings. He said the Tonganoxie wrestlers who didn't make the championship round were just as important to the team's second-place finish, because they were getting victories in consolation matches.
"I was pretty satisfied this weekend," Himpel said. "Even the guys on the back side, they still fought through and got a few points for us."
Yates and junior Jonas Myers (189) led the way in consolation matches as both finished third. Ian McClellan (160) placed fourth, as did Caleb Himpel (130), who injured his shoulder and had to scratch out of competition. Luke Carey (152), Thomas Miller (171), Ryan Lynch (215) and Hank Somers (Hvt.) each finished fifth.
THS wrestlers combined to go 30-19 at their home tournament, which Price said was a positive sign.
"We've got a good team this year," he said, adding he was proud the Chieftains could compete with a 5A school for the team title. "We're doing really good."
Goebel said the wrestlers have become a close group and their belief in the team concept has led to a positive outlook and successful results.
"That transition that takes place is making it a lot easier for them to perform as a whole," the coach said. "I think they feed off each other and push each other."
Putting five wrestlers in the finals helps breed that feeling of success but Goebel said a team-first act can be just as important. For instance, Matt Soetaert was sick in the days leading up to the tournament and he remained determined to compete.
"That was definitely a positive sign as a coach," Goebel said.
Matt, who went 3-1 and took second place, was just one part of the Chieftains' top finishers. Clayton Himpel said Matt and the guys below him in weight class have been important to the team's growth.
"From 112 to 45 is our strongest area, lightweight all the way up to middleweight," Clayton said. "Every week, we just improve, improve, improve."
Price agreed, and noted as other important parts of the team's development: the improvement of Thomas from last year, Matt's ability to pull off "crazy moves out of nowhere" and a freshman such as Carey coming in and learning.
"The middle through the bottom is really good for us," Price said.
On Saturday, THS was without a key contributor from the first few weeks of the season. Nick Pursel, who won a gold medal at 160 pounds at Eudora the week before and had an 11-0 record, wasn't present at the home tournament. Goebel declined to comment on his absence.
The coach, instead, preferred to focus on the showing of the wrestlers who were present for Tonganoxie's final event before winter break.
"I thought, overall, we entered break on a high note," Goebel said. "We wrestled tough and finished strong, hopefully that can just continue into January and late February."
The Chieftains' next event isn't until Jan. 8, when they travel to the Louisburg Invitational.
Randy Starcher Memorial Wrestling Invitational
Saturday at Tonganoxie
Team scores: 1. Shawnee Heights, 341; 2. Tonganoxie, 259.5; 3. Doniphan West, 186; 4. Piper, 161; 5. Atchison, 155.5; 6. Blue Valley West JV, 105.5; 7. Louisburg, 105; 8. Olathe Northwest JV, 59; 9. Bishop Ward, 49; 10. Oskaloosa, 38; 11. Jayhawk Linn, 22.
Weight class champions
103 — Ethan Beach, Piper
112 — Clayton Himpel, Tonganoxie
119 — Kenny Gulley, Atchison
125 — Aspen Kmice, Shawnee Heights
130 — Gabby Spear, Doniphan West
135 — Britton Price, Tonganoxie
140 — Gabe Martinez, Doniphan West
145 — Marshall Hall, Shawnee Heights
152 — Collin Zwart, Piper
160 — Tyler Willis, Shawnee Heights
171 — Nick Meck, Shawnee Heights
189 — Donnie Lockhart, Shawnee Heights
215 — Brandon Flanagan, Shawnee Heights
Hvt. — Derek Holley, Shawnee Heights
THS individual results
(Weight class — wrestler, record, place)
112 — Clayton Himpel, 3-0, 1st
119 — Dylan Yates, 2-1, 3rd
125 — Justin Soetaert, 2-2, 2nd
130 — Caleb Himpel, 2-2, 4th
135 — Britton Price, 3-0, 1st
140 — Adam Thomas, 3-1, 2nd
145 — Matt Soetaert, 3-1, 2nd
152 — Luke Carey, 2-2, 5th
160 — Ian McClellan, 1-2, 4th
171 — Thomas Miller, 2-2, 5th
189 — Jonas Myers, 3-1, 3rd
215 — Ryan Lynch, 2-2, 5th
Hvt. — Hank Somers, 2-3, 5th