Spreading holiday cheer with light show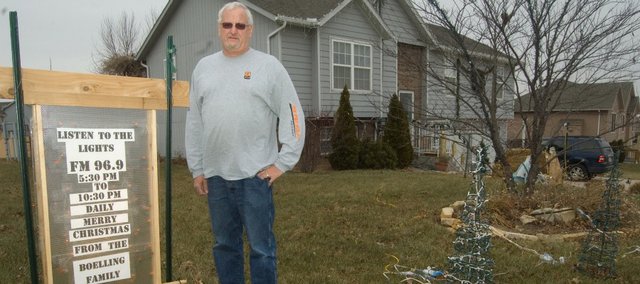 With the assistance of roughly 3,500 holiday lights, Ross and Lynnette Boelling's front yard has become a symphony of flashing lights and Christmas music this December.
Ross Boelling said the show runs from about 5:30-10:30 p.m. nightly at his home, 600 Hidden Valley Dr., in Tonganoxie.
Though decorating during the holidays is nothing new, this is the second year for the light show, which syncs Christmas music to the lights for repetitious 30-minute shows.
Area light shows
Here are addresses of holiday light shows in Lawrence and other area communities. Generally, the shows start about dark. Some run as late as midnight.
• In Lawrence: 4530 Larissa Dr. and 1132 Parkside Cir.
• In Tonganoxie: 600 Hidden Valley Dr.
• In Eudora: 623 Church St.
Boelling said it started this past year when he was looking for a new hobby.
"Like any hobby, you can go overboard," he said. "We try to be not too gaudy with it. Just have some fun with it."
The layout includes a nativity scene, small trees made of tomato cages, a large wreath, candy canes and lights on the couple's mailbox.
A program on Boelling's computer regulates when the various lights blink in accordance with the music. This past year, he had 16 different channels going on and off at different times with the music. This year, the Boellings have 48 channels.
"When you program it, it kind of looks like a spreadsheet," he said.
For the first year of the light show, outdoor speakers were used to complement the lights. This year, Boelling connected the lights to an FM transmitter, so people driving by can listen to music in the comfort of their own vehicles at 96.9.
Boelling said he and his wife had neighbors over to hear the music and see the light show to get an idea of how it would be each night during the holidays.
He said syncing the lights with a song could take between 10-15 hours "before you get it just the way you want it."
He said the most difficult song to match with lights was "Nutrocker" by Mannheim Steamroller.
"That's the hardest one we've done, probably 100 hours in this one," Boelling said. "It's the first one we did, so there was a learning curve to it.
Other songs played during the light show: "Carol of the Bells," "Stille Nacht" and "Faeries" by Manheim Steamroller, "Wish Lizst," "Siberian Sleigh Ride" and "Wisdom of Snow" by Tran-Siberian Orchestra, "Sleigh Ride" by MercyMe and the famous segment from "A Charlie Brown Christmas" when Linus recites a Bible verse announcing the birth of Jesus.
During a time of economic troubles, bad news and "general grumpiness," Boelling said he hoped the light show provides an outlet to passersby for forgetting troubles.
"It's kind of our gift," Boelling said of the visual present to visitors. "It's free. The kids like it. It's fun for us to do and we enjoy doing it."
Boelling's home is in the Stone Creek subdivision, which is in northeast Tonganoxie. If traveling east on U.S. Highway 24-40, take a left on Stone Creek Drive and then a right on Woodfield Drive. Next, take a left on Stone Creek Avenue. Hidden Valley Drive will be the second right after that.
Boelling said the show will run through Sunday, Jan. 2.