No shadow
Tonganoxie Phil's prognostication means so long winter, hello early spring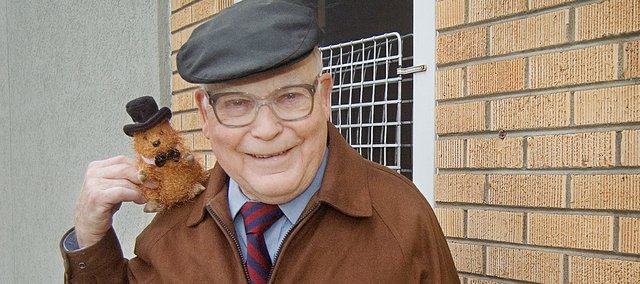 If local residents are ready for spring to arrive early, they should be glad Tonganoxie Phil ventured outside Tuesday morning.
Tonganoxie Phil, also known as longtime physician Phil Stevens, has been the local answer to Punxsutawney Phil, the celebrity animal that makes an appearance every Groundhog Day.
Tonganoxie Phil walked out of his Fourth Street office on an overcast morning to make his annual weather prognostication.
"Great news today," Stevens said. "No shadow."
The Groundhog Day tradition is based on a German superstition that an animal casting its shadow on Feb. 2, the Christian holiday of Candlemas, means another six weeks of winter is coming. Otherwise, it suggests an early spring.
If Stevens would have peaked out his office later Tuesday, he surely would have seen his shadow, as the sun was out in full force much of the day.
Stevens first took on the persona of Tonganoxie Phil in 1998, when a Kansas City, Mo., radio station introduced him as its version of Punxsutawney Phil. Though the annual spot on the radio station ended after a few years, Stevens continues to give out his prognostications each year. And sometimes folks want to know what the weather is going to be like — Feb. 2 or not.
"Not everyday, but frequently people kid me about it," Stevens said. "Some people, I think, actually think I know what the weather is going to do.
"I make a point to listen every day to the weather forecast in case someone asks me."
Stevens said he listens to WIBW Radio's Dave Relihan each morning, as he said he's "really good" with his forecasts.
People for the Ethical Treatment of Animals is pushing for a robotic replacement for the famous groundhog in Punxsutawney, Penn. But Stevens doesn't think that's necessary.
"Now that's prejudicial," Stevens said. "I think Punxsutawney Phil has the right to strut his stuff once a year. Poor little guy is in a hole all year long and has the chance to shine.
"I think they ought to give him an extra treat. A groundhog treat. That's his day in the sun."
Tuesday literally turned out to be just that, as Punxsutawney Phil saw his shadow, which is to mean another six weeks of cold weather.
As for a robot replacement for Tonganoxie Phil, Stevens said he gets along just fine and doesn't need one either.
"Well, just the usual maltreatment," Steven said jokingly about his time as a physician. "But I've been putting up with that for over 50 years."
Though the Pennsylvania groundhog is forecasting six more weeks of winter, the Tonganoxie physician is expecting an early spring.
And that's just fine by him.
"Well I'm all for that," Stevens said. "Because that snow we had. I couldn't even get out of my driveway for three days.
"It gives me a lot of sympathy for Punxsutawney Phil for being trapped in there all winter long. And hibernating."
Stevens also reiterated that his groundhog counterpart should continue to prognosticate about the weather every Feb. 2.
"I don't think he should be punished for being a celebrity," Stevens said with a laugh.