Slimming roster doesn't deter
THS

wrestlers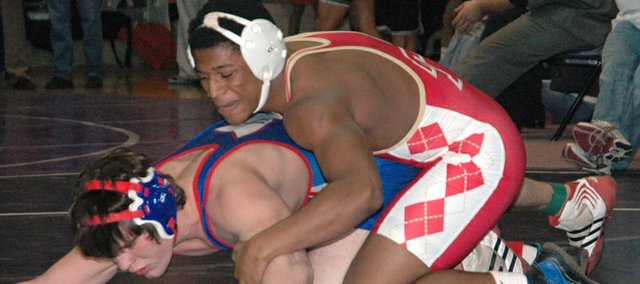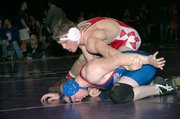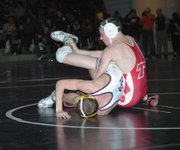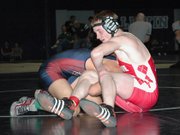 Holes in the Tonganoxie High wrestling roster are growing by the week but the team is still progressing.
The Chieftains had only eight wrestlers competing, leaving six weight classes open, and finished 11th in the team standings Saturday at the Baldwin Invitational.
THS has left 103 pounds and 112 open throughout the year but this week four more spots that are normally occupied — 135, 140, 145 and 160 — were left vacant.
Tonganoxie coach Jeremy Goebel said he moved some wrestlers down to junior varsity this week to get them more mat time and confidence and he doesn't know when or if the newly opened spots will be occupied.
"We're just kind of seeing where people weigh in, seeing where it's possible to fill," Goebel said. "Whoever we've got in the lineup, they're gonna compete."
That was the case this week at Baldwin, where four Chieftains finished in the top six.
At 171, Jeremie Maus went 3-1 to take second. Justin Soetaert (119) and Austen Holloway (189) both went 3-2 and placed fifth. Meanwhile, Jonas Myers (215) finished sixth with a 2-3 mark.
Anthony Baker (filling in for injured Caleb Himpel at 125) and Tyler Hand (130) both won a match. Ian McClellan (152) and Ryan Lynch (replacing banged up Ty Barton at 285) each finished 0-4.
Goebel was pleased with the way his team — what's left of it — performed. He said bumps were expected with such a young squad.
"I look back at Basehor and then how we improved at Baldwin. It's coming gradually," the coach said. "It's not like you're experiencing huge point jumps, but as a collective whole and individually, all of our kids are making strides and our goal is to finish strong."
THS has a few duals in the coming weeks before the postseason begins with the Kaw Valley League championships Feb. 13.
The team may be hurt with a few open weight classes "here and there," Goebel said, but he doesn't mind as long as the guys who are competing continue to get better.
"We want our best roster on the mat come regionals," he said, "so I think that last meet is when we're gonna have people healthy."
THS plays host to Lansing and Bonner Springs for duals starting at 5 p.m. Thursday.
THS results from Baldwin
119 — Justin Soetaert, 3-2, 5th
125 — Anthony Baker, 1-4, 8th
130 — Tyler Hand, 1-3, 8th
152 — Ian McClellan, 0-4
171 — Jeremie Maus, 3-1, 2nd
189 — Austen Holloway, 3-2, 5th
215 — Jonas Myers, 2-3, 6th
285 — Ryan Lynch, 0-4, 8th