Vexing victory
Chieftains not satisfied after 53-51 win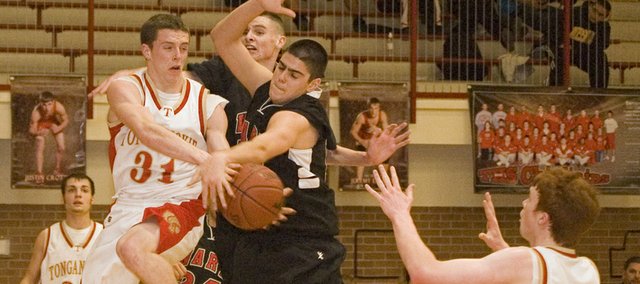 Photo Gallery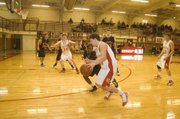 Tonganoxie boys edge Ward
Tonganoxie High's boys basketball team rallied for a 53-51 home win against Bishop Ward on Thursday.
Lacking in theatrics and exuberance, the Tonganoxie High boys basketball team didn't appear too happy as it exited the floor following its Thursday night game with Bishop Ward.
Rather stoically, the Chieftains shook their opponents' hands, gathered their gear and headed to the locker room.
Another disappointing loss?
Far from it.
THS had just rallied from a five-point deficit with 1:35 remaining to pull off a 53-51 home win.
Dane Erickson scored with three seconds left to put Tonganoxie ahead.
That moment was filled with high fives and fist pumps but the players didn't carry those emotions with them off the court after what they considered to be a disappointing performance in victory.
"I think they realized that we can play better," said Chieftains coach Shawn Phillips, "and even though they won, they were still extremely disappointed in how we played."
Even 19 points, five rebounds and a late, go-ahead shot wasn't enough to satisfy sophomore center Erickson.
"It shouldn't have been that close of a game," he said.
What led to the discouragement, Phillips added, was the way the home team allowed the Cyclones back in the game.
"We had a double-figure lead and we started getting away from what led us to such success," Phillips said.
THS was up 26-14 with 1:30 to go in the first half before Ward closed the second quarter on a 7-0 run and eventually took the lead in the fourth quarter.
After pounding the ball inside to Erickson and Justin Jacobs in the first quarter, when Tonganoxie led by as many as 10, the Chieftains (6-6) stopped going to what looked like a clear advantage inside.
Jeremy Carlisle dished out five of his nine assists and Erickson and Jacobs scored 12 of the team's 16 first-quarter points. Then the bigs combined for one field-goal attempt in the second quarter (an Erickson basket in the paint) and neither scored in the third.
It wasn't until THS started looking for Erickson again in the fourth quarter, when he scored nine points, that the home squad was able to take control.
Phillips made sure his team realized its biggest mistake.
He told the players: "Until teams can stop something, you've got to continue to exploit it. Tonight (Erickson) was our best offensive threat. They didn't have anybody that could match up with him in the paint."
After exiting the locker room, Tonganoxie senior forward Keaton Schaffer explained why the team was so disheartened following a victory.
"We had them down 11 twice in the first half and we quit feeding the ball inside to Dane," Schaffer said, also noting his irregular offensive performance kept the Chieftains from putting away Ward.
Schaffer finished with 18 points but was just 7-for-21 from the floor. Shots the senior routinely makes just weren't falling.
"It was a rough game," Schaffer said. "Luckily Dane picked up the pieces and helped me."
Though somewhat disappointed, THS players and coaches alike certainly were happy to get a victory and avoid a three-game losing streak.
"You never want to lose three in a row," Phillips said. "Two is bad enough. Three, it really starts to be a trend and that can really get you spiraling, so it was good for us to fight and get the win."
Tonganoxie had opened a seven-game homestand with back-to-back wins before losing to Silver Lake and De Soto.
"We needed to get back on a winning streak," Erickson said.
With just a few weeks left in the regular season, Schaffer said the Chieftains really need to capitalize in home games.
"We owe it to our fans to give them a good show at home," he said. "We need to start picking up the home wins because away wins are tougher."
THS plays host to Basehor-Linwood on Tuesday at 7:30 p.m.
The game can be seen on Ch. 6 at 10:30 p.m. Tuesday and Friday nights, as well as Saturday morning at 11 a.m.