Chieftains lose pair of home duals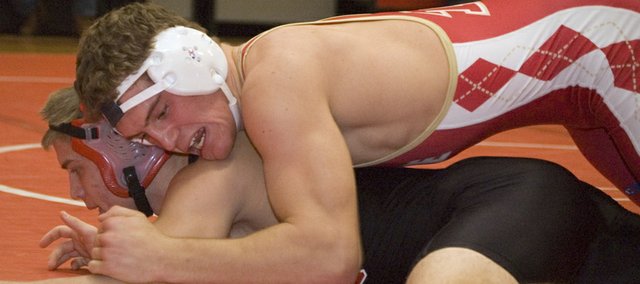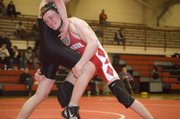 The Tonganoxie High wrestling team lost a pair of home duals on Thursday night.
The Chieftains played host to both Lansing and Bonner Springs but couldn't put together enough wins against either Kaw Valley League foe to challenge them.
Lansing defeated THS, 58-18, and Bonner Springs won, 50-24.
Tonganoxie had six open weight classes against the Lions but junior Tyler Hand (130 pounds) and senior Jeremie Maus were able to pull off victories.
Only three slots remained open against the Braves and the Chieftains fared a little better, winning five of their 11 contested matches in the dual.
Maus again was victorious while Justin Soetaert (125), Patrick Rachford (145), Ian McClellan (152) and Jonas Myers (215) joined him in getting their hands raised.
THS will have its Senior Night on Thursday at 6:30 p.m. against Perry-Lecompton.
THS duals
Lansing 58, Tonganoxie 18
119 — Anthony Baker lost 12-4 to Clayton Bogner
130 — Tyler Hand defeated Mike Laster, who retired with an injury
135 — Britton Price lost by pinfall to Garrett Hinckley
145 — Patrick Rachford lost by pinfall to Dillon Scanlon
152 — Ian McClellan lost by pinfall to Cullen Demarest
171 — Jeremie Maus pinned Cory Andrews
285 — Ty Barton lost by pinfall to Zach Hammer
Bonner Springs 50, Tonganoxie 24
119 — Anthony Baker lost 16-1 to Caleb Seaton
125 — Justin Soetaert pinned Austin Cobb
130 — Tyler Hand lost by pinfall to Jonathan Blackwell
135 — Matt Soetaert lost 11-10 to Tyler Lentz
145 — Patrick Rachford pinned Patrick Ballard
152 — Ian McClellan won 6-2 against Ryan Demato
160 — Thomas Miller lost by pinfall to Jared Clements
171 — Jeremie Maus won 7-4 against Brian Callahan
189 — Austen Holloway lost by pinfall to Collin Stirling
215 — Jonas Myers pinned Cameron Summers
285 — Ty Barton lost by pinfall to Jake Barren