Chieftains shellac Kaws, 53-22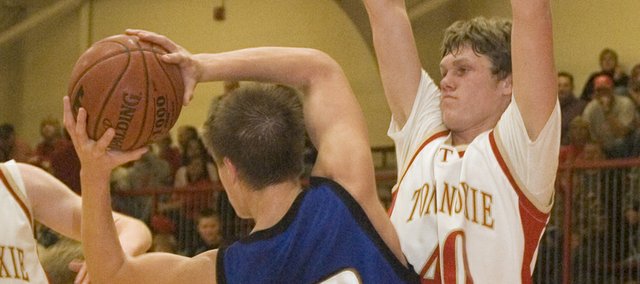 The Tonganoxie High student section is known for chanting about its desire for a "T-town beatdown."
The fans went home satisfied Friday night.
An accommodating Tonganoxie boys basketball team lambasted visiting Perry-Lecompton, 53-22.
The Chieftains' defense dominated the first half, holding the Kaws (2-11 overall, 0-7 Kaw Valley League) to 3-for-27 shooting.
That performance turned the opening two quarters into a series of THS runs: 11-0, 6-0, 5-0 and 8-0.
Tonganoxie (7-7, 4-3) led by 24 at the break and really put the game away with a big third quarter.
Chieftains senior forward Keaton Schaffer scored seven of his 14 points in the third, while junior forward Austin Vickers scored five and sophomore center Dane Erickson scored four.
With a running fourth-quarter clock, THS scored just three points but it hardly mattered in such a one-sided affair.
The home team was up so big in the second quarter that seldom-used reserve guards Colby Yates and Ben Williams both got a few minutes of early action and each of them scored.
Yates, a sophomore, stole an errant Kaws pass, threw it ahead to Vickers, then got it back for a pretty fast-break basket that put the Chieftains up 22-3, and he later scored again on a baseline drive.
Williams, also a sophomore, drove hard to the basket and finished strong over the defense with 32 seconds left, giving THS a 32-8 lead heading into halftime.
Erickson finished with a game-high 17 points, seven rebounds and three blocks.
Senior Tonganoxie forward Justin Jacobs led the team with nine rebounds.
For the game, THS held Perry-Lecompton to 9-for-47 shooting (19 percent).
The victory wrapped up a seven-game homestand for the Chieftains, who went 4-3 in that stretch.
They travel to Bonner Springs on Tuesday for a 7:30 p.m. tip.
Score by quarters
PLHS 3 5 7 7 — 22
THS 17 15 18 3 — 53
Tonganoxie scoring
Dane Erickson 6-8 5-8 17, Keaton Schaffer 6-11 2-2 14, Jeremy Carlisle 1-2 0-0 3, Austin Vickers 3-5 0-0 7, Justin Jacobs 0-4 2-2 2, Dylan Scates 1-3 2-2 4, Ben Williams 1-1 0-0 2, Colby Yates 2-3 0-0 4, Brady Waldeier 0-0 0-0 0, Keith Slater 0-0 0-0 0.