Tonganoxie girls struggle against
PLHS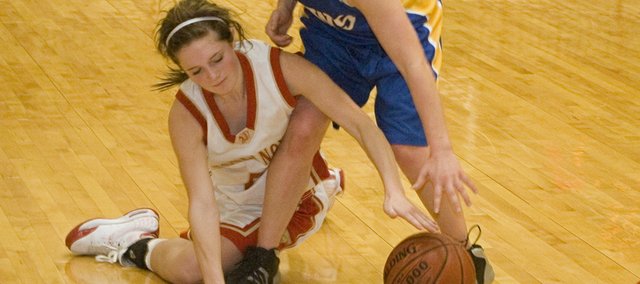 A third straight Kaw Valley League loss on Friday to visiting Perry-Lecompton led the Tonganoxie High girls basketball team to hold an impromptu postgame powwow.
Following a 42-29 loss to the Kaws, the Chieftains remained in the locker room more than 20 minutes discussing the state of their season at this point.
The discussion was no doubt prompted not only by the loss but by the fact THS scored just seven points in the first half against a PLHS team it had defeated on the road Dec. 15.
Tonganoxie coach Randy Kraft said the focus of the discussion between the coaching staff and players was: "Where do we go from here?"
"We've played some good games," Kraft said. "We've played really well in some losses that we've had. We've just got to learn how to consistently play at that level."
THS (5-8 overall, 3-3 KVL) only scored three baskets in the first half and would have gone scoreless in the second quarter had freshman guard Hannah Kemp not knocked in an elbow jumper with 1:15 to go.
Tonganoxie trailed the Kaws, 18-7, at halftime and only momentarily cut the deficit to single digits with baskets from Danielle Miller and Jenny Whitledge to open the third quarter.
PLHS (9-4, 4-3) responded with a 6-0 run and maintained a double-digit cushion the rest of the way.
Considering the Chieftains won 40-36 at Perry earlier this season, Kraft was asked how much the Kaws have improved since then.
"I think they were better defensively, for sure, than what they were," Kraft said.
But the eighth-year Tonganoxie coach said that, more than anything, he was just disappointed with his team's effort.
"It's really hard to evaluate how (Perry-Lecompton) played knowing that we definitely didn't play very well ourselves," Kraft said. "Not to take anything away from them, but when we don't put our best effort out there, it's really hard to gauge."
The fourth was the only quarter the Chieftains outscored the Kaws, edging them 11-8.
Kemp hit a three-pointer, Andie Jeannin set up Whitledge for a couple of jumpers and Jeannin and Hall converted two free throws apiece.
But for most of the game Perry-Lecompton was able to limit the production of Hall and Jeannin. Kraft said that was because players weren't helping out each other.
"It wasn't just them, offensively we didn't execute very well," the coach said. "As long as we have players that aren't trying to help each other … and as a young team that happens often. You're so focused on 'what I have to do,' and trying to do it right that you don't see how you could be helping your teammates."
Kraft said THS missed some screens, didn't execute and failed to adjust to what the PLHS defense was doing.
Whitledge led the Chieftains with 11 points. Kemp and Hall each scored five.
THS plays its seventh straight home game on Monday at 7 p.m. against Bishop Ward.
In the homestand, Tonganoxie is 2-4.
Score by quarters
PLHS 8 10 16 8 — 42
THS 5 2 11 11 — 29
Tonganoxie scoring
Andie Jeannin 0-4 2-2 2, Lauren Hall 1-5 2-2 5, Danielle Miller 1-2 0-0 2, Jenny Whitledge 4-9 3-12 11, Hannah Kemp 2-4 0-0 5, Lindsey Fatherley 1-7 0-2 2, Haley Smith 1-5 0-0 2, Tavia Brown 0-2 0-0 0, Amanda Holroyd 0-1 0-0 0.