THS

defense dominates in blowout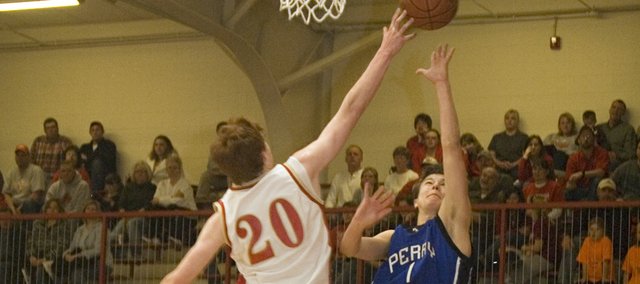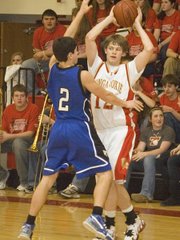 No stranger to double-digit victories, the Tonganoxie High boys basketball team finally kicked down the blowout door and won with a vengeance.
The Chieftains could do no wrong on either end of the floor Friday and made sure visiting Perry-Lecompton never got close in a 53-22 drubbing.
In previous wins, THS (7-7 overall, 4-3 Kaw Valley League) had won by 10, 11, even 17. But the 31-point trouncing of the Kaws was something else. Tonganoxie was able to protect a double-digit lead and build upon it, which pleased coach Shawn Phillips.
Because the Chieftains recently struggled protecting leads, most notably in losses to Silver Lake and De Soto and a 53-51 win over Bishop Ward (all at home), the coach enjoyed watching his team expand upon a 32-8 halftime advantage.
"Even though we maybe didn't play quite as well (in the second half) as we could have, we still pushed the lead up and wouldn't let them come back," Phillips said. "We put the game out of reach instead of making it questionable coming down the stretch."
Junior forward Austin Vickers said the players knew that kind of performance was exactly what Phillips wanted.
"He'd been telling us all season to 'put teams away, put teams away,'" Vickers related, "and tonight we finally did it. We shut them down."
The THS defense was nearly impeccable in the first half, when PLHS hit just three of 27 shots (11 percent), and the Kaws (2-11, 0-7) finished the game 9-for-47 from the floor (19 percent).
"We did a good job of trying to shut down the passing into the post," Phillips said. "We made them try to shoot coming off the dribble and that's a tough shot for high school kids to make."
In the meantime, Tonganoxie's offense flowed as teammates looked for the extra pass and uncontested shots became a habit.
So what's it like to dominate a game so thoroughly?
"It's really fun," said sophomore center Dane Erickson, who led the team with 17 points and three blocks. "It's the best way to play."
One highlight of such a one-sided game, Vickers noted, was increased playing time for the Chieftains' bench.
Keaton Schaffer, the team's leading scorer this year, had just five of his 14 points in the first half and THS didn't miss a beat.
"As a varsity starter, it feels good when you can get the varsity backups in in the first half," said Vickers, who finished with seven points and three boards.
Subs Colby Yates, Ben Williams and Brady Waldeier all saw first-half minutes with Tonganoxie up big.
Waldeier grabbed a few rebounds, Yates scored on a pair of layups and Williams converted a tough drive to the basket.
"We actually pushed the lead up with Jeremy Carlisle, Keaton Schaffer and, at times, other starters resting," Phillips pointed out.
Even better, the coach continued, that playing time could help the team's rotation in the future.
"It's good for them to get some experience on the varsity floor and hopefully build some confidence," Phillips said. "We can bring our bench along and maybe make our depth a little better."
Season winding down
Tonganoxie's lopsided victory marked the final contest of a seven-game homestand, during which the team was 4-3.
With four of their six remaining regular-season games on the road, Erickson said the Chieftains would have to be ready.
"We're not gonna have the energy boost we have here at home with all the crowd," Erickson said. "We've got to create our own energy."
Phillips thinks the team's performance against PLHS could help augment its level of play the rest of the month.
"We're starting to roll and we hope that we're going to be playing our best basketball down the stretch because that's when it really matters, as we continue to wrap up the season and head into sub-state," the coach said.
Though THS currently resides in the middle of the KVL standings, Phillips thinks a strong final push and winning out could propel the team as high as second in the league.
"Now that's a tough thing to do," he noted, "but it's still within the realm of possibility."
Tonganoxie played Tuesday at Bonner Springs after The Mirror's deadline. Go to tonganoxiemirror.com for details.