THS

wrestlers focusing on the positive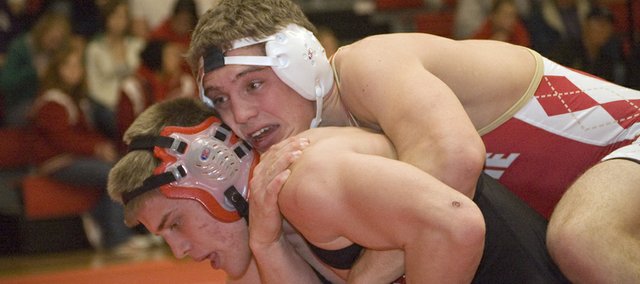 Photo Gallery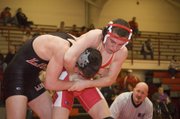 THS falls in pair of home duals
The Tonganoxie High wrestling team played host to duals with Lansing and Bonner Springs on Thursday but dropped both of them. The Lions won, 58-18, and the Braves prevailed, 50-24.
As if worrying about keeping their shoulders off the mat wasn't enough.
With a pair of home dual losses Thursday, Tonganoxie High's wrestling team had to find a balance between getting upset about the outcomes and remaining positive.
The Chieftains were defeated first by Lansing, 58-18, then by Bonner Springs, 50-24.
With six weight classes open versus the Lions, just two THS grapplers — junior Tyler Hand (130 pounds) and senior Jeremie Maus (171) — were victorious.
But Tonganoxie had five winners — junior Justin Soetaert (125), sophomore Patrick Rachford (145), junior Ian McClellan (152), sophomore Jonas Myers (215) and Maus — against the Braves with only three slots left empty.
Still, Chieftains coach Jeremy Goebel said the lopsided dual scores were troubling.
"If it don't bother you, then we're kind of in the wrong," Goebel said. "We want to use that as motivation."
Although matches are all about an individual, Soetaert said there is still a team bond and THS wrestlers want to perform better, especially in a dual setting.
"You're out there by yourself, but your team's behind you, so you always think about what your team's going to do and how you can help your team out," Soetaert said.
Maus, the only Tonganoxie grappler to win both his varsity matches Thursday, said a number of factors contributed to his team's struggles.
"I'd like for the team to win, but both teams (LHS and BSHS) are pretty tough, you know," Maus said. "We're low on members and everything this year from people quitting and stuff like that, which hurts."
Soetaert said he was concerned by the dual losses.
"We've got a lot of work to do before regionals," he said.
Goebel emphasized that the Chieftains need to focus on the strides they are making as a team and as individuals with just days remaining until a state-qualifying regional Feb. 19-20 at De Soto.
The coach said a couple of particular wrestlers — McClellan and Rachford — displayed their improvement on the mat Thursday, adding that they "took it to another level."
"Ian and Patrick, they came out and wrestled real tough," Goebel said. "Technique-wise, they did a lot of good things. I've just seen a lot of improvement in terms of stance, position. Patrick ran that half very well."
Maus, too, was impressed with a couple of teammates.
The senior applauded the efforts of sophomore Anthony Baker (119), who went 0-2 at the duals.
"He may go out there and get his butt kicked but the way he's wrestling, the way he's listening to our coaches, he's gonna be pretty successful in the future," Maus said.
The senior also gave kudos to freshman Thomas Miller, who was 0-1.
"He just got thrown into the lineup at 160 two weeks ago," Maus said, adding Miller had improved immensely in only his third year of wrestling.
Such development has helped Maus remain positive, even in the team's losses.
"We keep growing every week," he said.
Whether competing in duals or tournaments, overall, outcomes haven't been desirable for Tonganoxie this year.
"Sometimes things don't go the way you want," Goebel said.
But there are things that will be tweaked, the coach added, as THS addresses different situations at upcoming practices.
"We've just got to keep piecing that puzzle together," Goebel said, noting the team will keep re-evaluating things to make sure it is as ready as it can be for the postseason.
Senior Night
Before the Chieftains begin their postseason with the Kaw Valley League Tournament on Saturday (9 a.m. at Basehor-Linwood), they have their regular-season finale, which will serve as the team's Senior Night, starting at 6:30 p.m. Thursday at home.
The dual with Perry-Lecompton, Goebel said, should be important not only for the seniors, but also the underclassmen.
"We want to send those seniors out right," the coach said.
THS duals
Lansing 58, Tonganoxie 18
119 — Anthony Baker lost 12-4 to Clayton Bogner
130 — Tyler Hand defeated Mike Laster, who retired with an injury
135 — Britton Price lost by pinfall to Garrett Hinckley
145 — Patrick Rachford lost by pinfall to Dillon Scanlon
152 — Ian McClellan lost by pinfall to Cullen Demarest
171 — Jeremie Maus pinned Cory Andrews
285 — Ty Barton lost by pinfall to Zach Hammer
Bonner Springs 50, Tonganoxie 24
119 — Anthony Baker lost 16-1 to Caleb Seaton
125 — Justin Soetaert pinned Austin Cobb
130 — Tyler Hand lost by pinfall to Jonathan Blackwell
135 — Matt Soetaert lost 11-10 to Tyler Lentz
145 — Patrick Rachford pinned Patrick Ballard
152 — Ian McClellan won 6-2 against Ryan Demato
160 — Thomas Miller lost by pinfall to Jared Clements
171 — Jeremie Maus won 7-4 against Brian Callahan
189 — Austen Holloway lost by pinfall to Collin Stirling
215 — Jonas Myers pinned Cameron Summers
285 — Ty Barton lost by pinfall to Jake Barren