'

Feel the heat'
Tonganoxie firefighters participate in special training that uses real-life scenario for fighting fires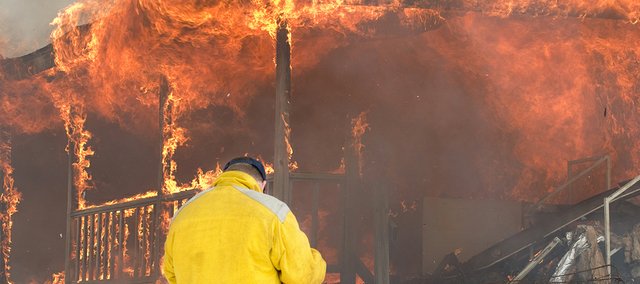 John Callaghan, deputy fire chief for the Tonganoxie Fire Department, sprays an upstairs room of a house just north of U.S. Highway 24-40 in Tonganoxie with some diesel before lighting the fuel on fire.
Outside, 20 Tonganoxie firefighters, with hoses in hand, wait for signs that their special training is about to begin. Minutes go by and the promising puffs of smoke billowing from the upstairs window begin to disappear. The fire's gone out.
For their second attempt, Callaghan and Fire Chief Dave Bennett decide to start the fire inside the kitchen, where there is less moisture. More fuel is added and ignited and all of the firefighters are once again on alert for their training exercise to begin. Even more time goes by before, very slowly, flames begin to engulf the house.
Standing outside watching the slow progress of the fire, Bennett turns to Callaghan and jokes that they know they are good firefighters when "we can't even start a fire."
On Saturday, these members of the Tonganoxie Fire Department were given the opportunity to train on how to fight a defensive house fire by using an actual house and a controlled fire.
Bennett said training opportunities like this don't come around very often. He said the last time Tonganoxie had an opportunity such as this was a decade ago. When given the opportunity, it can become an invaluable tool for both the young and experienced firefighters.
"For a lot of them, this is the first fire that they've seen," Bennett said about the three cadets at the training. "I needed them to feel the heat, to catch the sights and sounds of a fire so they know what to expect."
For the more experienced firefighters, Bennett said it was an opportunity to talk about strategies and tactics to combat a blaze in a calm and controlled environment.
"It was a learning tool for all of us," he said. "We all took something out of it."
The training started a little after 8 a.m. when the crews worked their way to the old yellow house on County Road 5.
From there, firefighters and cadets hooked up their hoses to fire hydrants, set up a portable water tank and positioned themselves to fight the fire.
Bennett said before Saturday's training, the department had used this house to teach an offensive approach to fighting a fire. At that time, a fire would be set in a room and it would be up to the firefighters to go in there and put it out. Bennett said that type of approach is used when the fire is manageable or when a person is inside.
On Saturday the firefighters learned about fighting a defensive fire or as Bennett called it, the "surround and drown" approach.
The fire was set up so the top floor would collapse into the second floor and then the second floor would collapse into the basement making it easier for the firefighters to maintain control. For hours the firefighters kept the blaze contained until it was all over around 2:30 p.m.
Bennett said he and his firefighters were lucky that it was a quiet Saturday because all of the firefighters worn out by that time. But he said despite the slow start everything went according to plan,
"We couldn't ask for a better outcome," he said.