Squirrels slow to show at scramble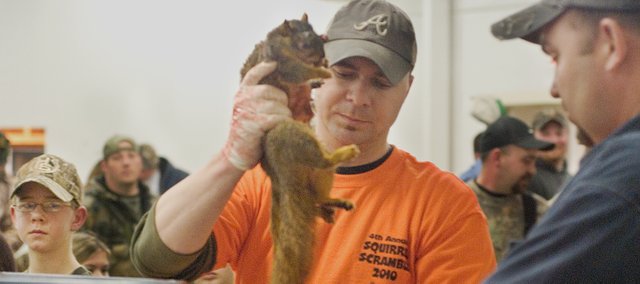 When Aaron Kaser and his two stepsons, Christjen, 9, and Hunter Schmidt, 8, signed up to participate in some squirrel hunting, he wanted to spend some time doing things dads and sons do.

But the squirrels had other plans.
"We didn't get anything," Kaser said. "We hit it hard. We were in good spots, but there just weren't any squirrels."
For the fourth year, hunters from the area and some from as far as Wichita made their way to Tonganoxie to participate in the annual Tonganoxie Squirrel Scramble. This year, awards were handed out at the Leavenworth County Fairgrounds.
On Saturday, 78 teams spread out in rural Kansas and Missouri to bag the heaviest 10 squirrels they could shoot.
But the problem for many hunters this year was that they couldn't find any squirrels to shoot.

Friday's snow and Saturday's cold temperatures kept many of the squirrels in their homes and not out gathering food.
Glen Thompson and Dallas Hewett drove to Tonganoxie from Wichita for the event and both left empty-handed.
"I shot one, but couldn't find the thing," Thompson said. "I don't mind the weather so much, but I just didn't see any squirrels."
Adam Bryant, Squirrel Scramble co-creator, agreed and said the snow made this year's hunt more difficult.
"The squirrels weren't out moving as much," he said. "You just can't control Mother Nature."
This year's weather was completely different from last year's hunt. While some of the teams last year were hunting in T-shirts in the 71-degree weather, this year all of them were sporting coats.
Attendance was down by 60 teams this year compared to last year.
Randy Smiley, co-creator of the Squirrel Scramble, said he didn't mind the lower attendance because "the true hunters are out here."
This year only 43 teams caught squirrels.
Squirrel Scramble officials said 268 squirrels totaling 337.06 pounds were killed.
The Lawrence team These Nuts was the top winner among adult teams. Members Kyle Lux and Dwight Byers won $294, but donated $100 to make sure each participating child left with a Squirrel Scramble T-shirt.
Byers said many squirrels come and feed on his crops in his rural Lawrence home, so they had an easy time shooting them.
The Hardwood Boys, Colten Pope and his father, Wesley Pope, were the winners in the youth category. Their prize was $120.
Although they didn't shoot any squirrels this year, Christjen and Hunter didn't leave empty-handed. The two boys each won a $20 gift certificate to Dave and Buster's. They said they still had a good time and want to come back next year.