VFW

honors students for hero-related essays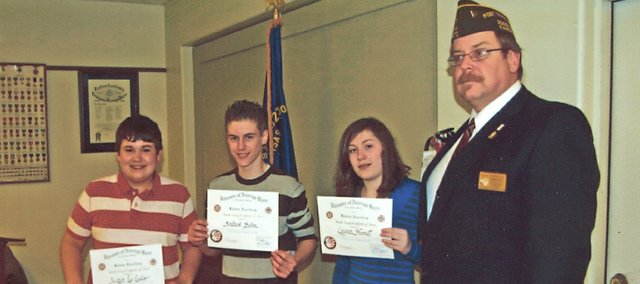 Students at Tonganoxie Middle School and Tonganoxie High School recently were recognized for their excellence in the Veterans of Foreign Wars annual essay competition.
At the middle school level, winners of the essay, known as Patriot's Pen, were Lauren Harrell, first place; Andrew Behm, second place; and Justyn Lee Leslie, third place.
At the high school, the contest is known as Voice of Democracy. Winners at THS were Ashley Forbis, first; Shelby Pursel, second; and Tiffany Jacobs, third.
A pizza party was given Feb. 1 at the VFW Post Home to honor the students, as well as their parents and teachers.
The theme of the essay is chosen annually by the VFW's commander-in-chief.
This year's theme for the Patriot's Pen, open to sixth-, seventh- and eighth-graders, was "When is the Right Time to Honor Our Military Heroes?"
The theme for the Voice of Democracy, open to students in grades 9-12, was "Does America Still Have Heroes?"
First-place winners received $100, second place $75 and third place $50, as well as certificates from Tonganoxie VFW Post 9271. Each teacher also was recognized and given a certificate for the educator's support of the program.
Students have the opportunity to move to the district level, then the state level and on to the national level, with prizes being given at each level. The first-place winner at the national level is given a $10,000 savings bond plus an all-expenses paid trip to Washington, D.C.
Post 9271 commander is Dan Hopkins. Helene Miller is essay coordinator.