Tonganoxie girls end 4-game skid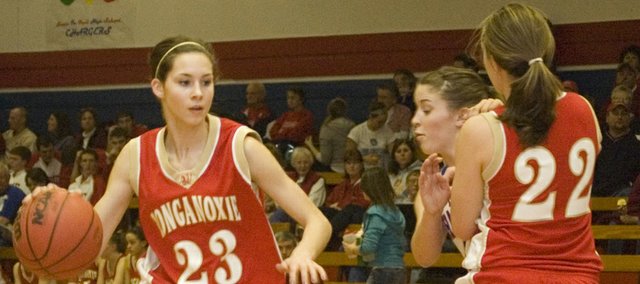 Carbondale — The Tonganoxie High girls basketball team recovered from a very slow start to break a four-game losing streak with a 46-38 win at Santa Fe Trail Friday night.
After scoring just five points in the first quarter and trailing the Chargers (6-9 overall, 3-6 Kaw Valley League) 13-5 in the second quarter, the Chieftains went on a game-changing run.
Following a 6:16 scoreless drought, THS (6-10, 4-5) went on a 13-0 run to end the half and carried that spurt over to the third quarter, when THS scored the first seven points, making it an impressive 20-0 Tonganoxie run through 7:46 of game time.
Sophomore guard Haley Smith began the swing with two free throws in the second quarter and scored all six of her points in that period.
During the run, Chieftains senior guard Andie Jeannin scored eight points, draining a pair of three-pointers.
Junior Danielle Miller scored on an offensive rebound in the second quarter and after a scoreless first half, Jenny Whitledge put in a pair of baskets in the third quarter before SFT finally stopped the bleeding with a basket at the 5:33 mark.
Jeannin led THS with 16 points and Whitledge finished with 13.
Miller had a team-high nine rebounds.
Tonganoxie plays host to Lansing on Tuesday at 6 p.m.
Score by quarters
THS 5 13 12 16 — 46
SFT 9 4 11 14 — 38
Tonganoxie scoring
Andie Jeannin 3-7 8-8 16, Lauren Hall 2-9 1-4 6, Danielle Miller 2-5 0-2 4, Jenny Whitledge 4-7 5-7 13, Hannah Kemp 0-5 1-2 1, Haley Smith 2-4 2-2 6, Lindsey Fatherley 0-1 0-2 0.