Maus wins
KVL

title
Myers, Soetaert medal at league tourney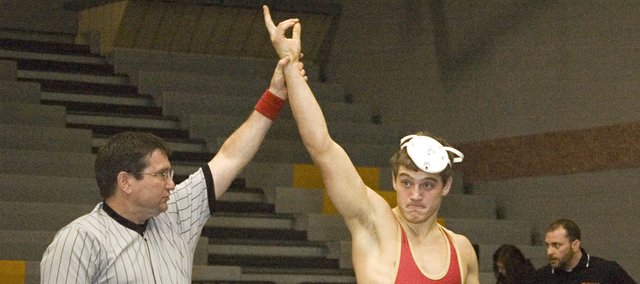 Basehor — Tonganoxie High's wrestling team may have finished ninth in the team standings at the Kaw Valley League Tournament on Saturday, but one Chieftain went home a KVL champion.
Jeremie Maus, a 171-pound senior, went 3-0 Saturday at Basehor-Linwood to win his first league championship.
Maus pinned Bonner Springs' Brian Callahan in the finals to get his third pinfall victory of the day.
The THS senior wasn't the only Chieftain to secure a medal at the KVL tourney.
Sophomore Jonas Myers (215) finished third after going 2-1 and junior Justin Soetaert (125) placed fourth with a 2-2 mark.
With five Lions capturing league titles, Lansing easily won the team championship, scoring 52 more points than runner-up Turner.
On Friday at De Soto, Tonganoxie begins its regional tournament.
2010 Kaw Valley League Wrestling Tournament
Saturday at Basehor-Linwood
Team standings: 1. Lansing, 189.5; 2. Turner, 137; 3. Bonner Springs, 114; 4. Mill Valley, 113; 5. Santa Fe Trail, 81; 6. Basehor-Linwood, 76.5; 7. Piper, 70; 8. Perry-Lecompton, 55.5; 9. Tonganoxie, 49; 10. Bishop Ward, 23.
KVL champions
103 — Kevin Keller, Lansing
112 — Bo Pursel, Lansing
119 — Caleb Seaton, Bonner Springs
125 — Symon Seaton, Basehor-Linwood
130 — Forrest Carroll, Turner
135 — Dennis Madden, Perry Lecompton
140 — Spencer Blew, Lansing
145 — Derrick Weller, Piper
152 — Cullen Demarest, Lansing
160 — Tyler Baughman, Lansing
171 — Jeremie Maus, Tonganoxie
189 — Aramando Alcantara, Turner
215 — Leo Beck, Mill Valley
285 — Jake Barren, Bonner Springs
THS medalists
125 — Justin Soetaert, fourth
171 — Jeremie Maus, first
215 — Jonas Myers, third
THS individual KVL records
119 — Anthony Baker, 0-2
125 — Justin Soetaert, 2-2
135 — Britton Price, 2-2
145 — Patrick Rachford, 1-2
152 — Ian McClellan, 0-2
160 — Thomas Miller, 0-2
171 — Jeremie Maus, 3-0
189 — Zach Kaighin, 1-2
215 — Jonas Myers, 2-1
285 — Ty Barton, 0-2