Pileups close highways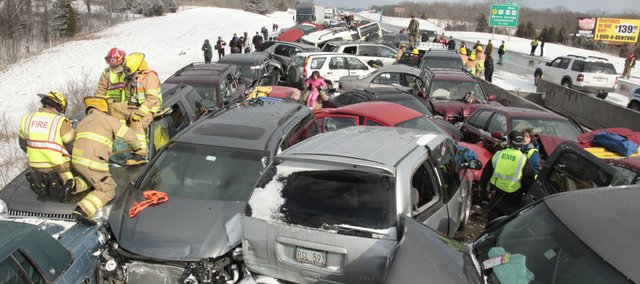 Icy roads and poor weather conditions Sunday afternoon caused numerous multiple-vehicle pileups on highways in Wyandotte and Johnson counties.
The westbound lanes of Interstate 70 near Bonner Springs were closed from about 1 p.m. to 7 p.m. as emergency and Kansas Turnpike Authority personnel worked to clear the wreckage from a 40-vehicle pileup that occurred about a half-mile west of the intersection of Kansas Highway 7 and I-70.
Eastbound turnpike traffic was limited to one lane during the same time period after 30 to 40 vehicles were involved in similar accident about two-and-a-half miles west of Kansas Highway 7. Authorities opened all eastbound lanes shortly after 7 p.m.
Kansas Turnpike officials said no one was seriously hurt during the incidents, but due to the high number of accident reports they were working on they did not have information compiled on injuries. Several people were extricated from vehicles and at least a few received medical treatment at the scene.
Reports from motorists in the area described the stretch of I-70 between Lawrence and Bonner Springs as an ice sheet, and said a brief burst of heavy snow produced near-whiteout conditions.
Witnesses at the K-7 accident site also said that several buses were dispatched to the scene Sunday afternoon to take stranded motorists off the highway.
6News meteorologist Greg Postel said the snow squalls were part of an unusual weather pattern, with intense snowfall reducing visibility to near zero for several minutes in various areas just to the east of Lawrence. Interestingly, he added, the weather radar Sunday afternoon showed that the snow bands were separated from one another by almost clear skies, and radiated outward from a precipitation-free center.
In other parts of the Kansas City metropolitan area, one pileup Sunday on Interstate 35 in Lenexa sent 13 people to the hospital, mostly with minor injuries. The northbound lanes of I-35 were closed for about three hours while the wreckage was cleared; authorities estimated that more than 20 cars were involved. U.S. Highway 69 in the same area, near 87th Street, was also closed for several hours by a chain-reaction crash.
Meanwhile, another pileup along Interstate 435 in Kansas City, Kan., near the former Woodlands racing complex, involved up to 40 vehicles.