All skidding aside:
THS

girls end slide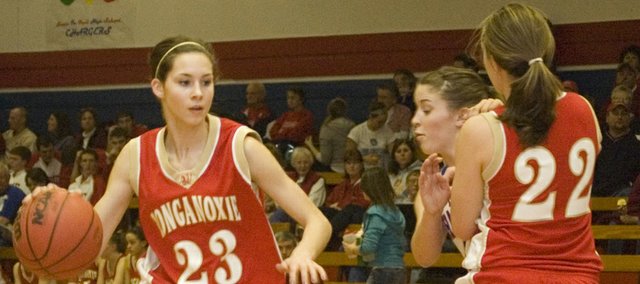 Carbondale — After coaching his team to a victory at Santa Fe Trail and distributing a rose to each one of his players as an early Valentine's Day gift before the game, Tonganoxie High girls basketball coach Randy Kraft was too chipper Friday to recall the specifics of the win's significance.
The Chieftains had just won their first game since Jan. 26, but as far as the coach could remember it was just the end of a "too-many-game losing streak."
The 46-38 THS road win actually snapped a four-game slide and a five-game losing streak in the Kaw Valley League.
"Too many games, too many close games," Kraft said. "We finally were able to get over the hump and get one."
In the opening minutes, though, it appeared Tonganoxie (6-10 overall, 4-5 KVL) might be in for yet another loss. The Chieftains only scored five points in the first 10:41 of play and trailed 13-5.
"Early on our offense wasn't crisp," Kraft said. "We were slow making cuts and we do that sometimes — we get in that funk where we're not running hard."
But what followed was a completely different look for THS. Movement picked up, Tonganoxie found a wealth of open looks and went on a 20-0 run that started in the second quarter and lasted nearly two and a half minutes into the third.
"I know they had 13 for a long, long time," Kraft said of the Chargers (6-9, 3-6).
Following a span that featured eight points from senior Andie Jeannin, six from sophomore Haley Smith, four out of freshman Jenny Whitledge, two from junior Danielle Miller and nothing for SFT, the Chieftains led 25-13.
That 12-point lead gave THS plenty of breathing room down the stretch as it finally picked up another win.
"It felt so good," Jeannin said of ending the skid. "We've kind of been in a drought for a really long time and losing close games."
Jeannin began the game 1-for-4 from the field, but after getting hammered driving to the basket late in the second quarter, she scored 14 of her game-high 16 points from that point on and went 8-for-8 at the free-throw line.
"I just got pumped up," Jeannin said.
Kraft said it was the second straight solid outing from his senior guard, who scored 10 in a 48-37 loss Feb. 9 at Bonner Springs.
"She's been playing well runnin' the point," Kraft said. "For the most part she's been getting us in our offense and that's big."
It was the work of her teammates, Miller and Whitledge in particular, Jeannin said, that made a victory possible.
Miller led the team with nine rebounds and after foul trouble sidelined Whitledge for most of the first half, she scored 13 points and grabbed six rebounds after halftime.
"They both stepped up," Jeannin said.
Tonganoxie plays host to Lansing on Tuesday at 6 p.m.