Big 1st quarter boosts
THS

boys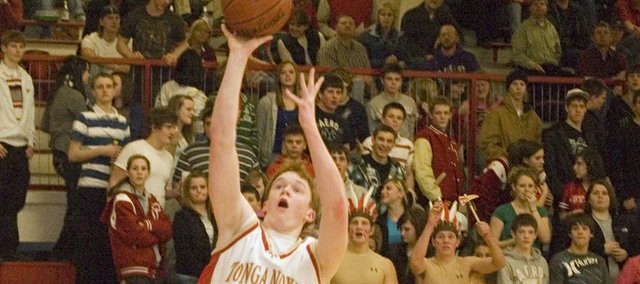 A dominating first-quarter performance proved crucial for the Tonganoxie High boys basketball team in a 54-43 home win over Lansing Tuesday night.
The Chieftains outscored the Lions 15-2 in the first eight minutes and held on for a victory despite giving up offensive rebound after offensive rebound to LHS (10-7 overall, 6-4 Kaw Valley League).
Sophomore THS center Dane Erickson helped his team to a 13-point lead by scoring nine of his team-high 19 points in the first quarter.
When Erickson got in foul trouble in the second quarter, as did starters Keaton Schaffer and Jeremy Carlisle, Lansing was able to cut into Tonganoxie's comfortable lead.
After Erickson scored the Chieftains' first two buckets in the second quarter, he picked up his second foul with 4:33 remaining until halftime and what was once a 14-point lead in the second became a seven-point advantage at intermission.
Lansing forced THS (9-8, 6-4) to a slower pace in the third quarter and kept the game close but Tonganoxie pulled away in the fourth.
A 7-0 run in the first few minutes of the period — with two Schaffer baskets and a three-point play from Austin Vickers — gave the Chieftains a 42-27 lead and they hit 10 of 14 free-throw attempts in the final minutes to seal the win.
Schaffer finished with 14 points and senior forward Justin Jacobs nearly had a double-double with nine points and 12 boards.
THS plays Friday at 7:30 in Kansas City, Kan., against Bishop Ward.
Score by quarters
LHS 2 18 7 16 — 43
THS 15 12 8 19 — 54
Tonganoxie scoring
Dane Erickson 6-7 7-7 19, Keaton Schaffer 4-9 6-7 14, Jeremy Carlisle 3-8 1-3 7, Austin Vickers 1-1 1-1 3, Justin Jacobs 2-10 5-8 9, Dylan Scates 1-3 0-0 2, Ben Williams 0-1 0-0 0.