Maus 'finally' earns a
KVL

title
Myers, Soetaert impress
THS

coach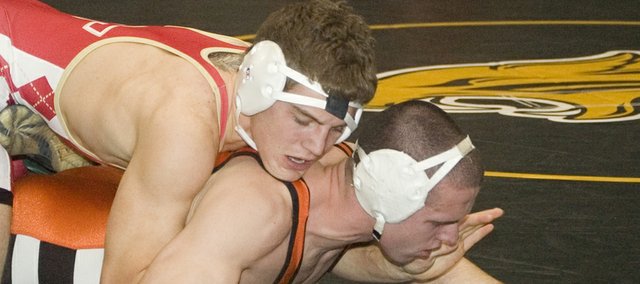 Photo Gallery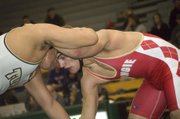 Tonganoxie wrestling 9th at KVL tourney
Tonganoxie High's wrestling team finished ninth in the points standings at the Kaw Valley League Tournament in Basehor on Saturday but three Chieftains were medalists.
Basehor — He had been close in the past, but Tonganoxie High senior wrestler Jeremie Maus finally got himself a league championship Saturday.
Maus went 3-0, winning all of his matches by pinfall, and defeated Bonner Springs' Brian Callahan in the 171-pound Kaw Valley League final at Basehor-Linwood.
"That was a great feeling 'cause my sophomore year I got second, last year I got third," Maus said. "It's almost like a huge sigh of relief. I finally got it."
However, Maus wasn't as proud of what transpired immediately following his title win.
After pinning Callahan, Maus leaped to his feet and gave a big fist pump while staring down at his defeated opponent. Although Maus still got the win, the official called him for unsportsmanlike conduct.
Maus said he felt badly about his actions and got carried away in the moment.
"I didn't really mean to do it but it happens. The football side of me came out," said Maus, who also played linebacker for THS. "I feel bad for it now."
The Tonganoxie senior said it was the second time he has acted out of character following a match and he plans to be on his best behavior the remainder of the season.
"I've got to watch what I say," Maus said. "I'm pretty much planning on going out and not saying a word."
The next time Maus takes the mat, a possible state berth will be on the line. The Chieftains travel later this week to De Soto for a Class 4A regional tournament, which begins Friday and ends Saturday.
In Maus' previous regional experiences, he came one win away from qualifying for state, so he will be looking for another personal first at De Soto.
"It's just a huge obstacle I'm ready to get over," Maus said, adding that his goal is to win a regional championship.
Medals for Myers, Soetaert
Although Tonganoxie finished ninth out of 10 teams in the KVL Tournament points standings, two other Chieftains won medals Saturday.
Sophomore Jonas Myers (215) went 2-1 at the tournament to take third place and junior Justin Soetaert (125) finished 2-2 for fourth.
THS coach Jeremy Goebel was impressed by Myers' resolve. After getting pinned by Lansing's Geno DeGraw in his first outing, Myers later defeated DeGraw, 1-0, in his last match.
"Jonas came back and redeemed himself against Lansing to win that third-place match," Goebel said, noting it is not easy for a wrestler to knock off an opponent he has already lost to, especially on the same day.
The coach also was impressed by Soetaert because the junior didn't back down when he faced Basehor-Linwood's Symon Seaton, the No. 1 125-pounder in 4A, who went on to win a KVL crown.
"He came out and wrestled tough," Goebel said of Soetaert. "He wrestled him to compete and score points. In the overall picture, that's a good momentum swing going into this week."
Patrick Rachford (145) and Zach Kaighin (189) each scored one win as THS finished with 49 team points.
Lansing easily won the team championship, scoring 52 more points than runner-up Turner, with five Lions capturing league titles.
2010 Kaw Valley League Wrestling Tournament
Saturday at Basehor-Linwood
Team standings: 1. Lansing, 189.5; 2. Turner, 137; 3. Bonner Springs, 114; 4. Mill Valley, 113; 5. Santa Fe Trail, 81; 6. Basehor-Linwood, 76.5; 7. Piper, 70; 8. Perry-Lecompton, 55.5; 9. Tonganoxie, 49; 10. Bishop Ward, 23.
KVL champions
103 — Kevin Keller, Lansing
112 — Bo Pursel, Lansing
119 — Caleb Seaton, Bonner Springs
125 — Symon Seaton, Basehor-Linwood
130 — Forrest Carroll, Turner
135 — Dennis Madden, Perry Lecompton
140 — Spencer Blew, Lansing
145 — Derrick Weller, Piper
152 — Cullen Demarest, Lansing
160 — Tyler Baughman, Lansing
171 — Jeremie Maus, Tonganoxie
189 — Aramando Alcantara, Turner
215 — Leo Beck, Mill Valley
285 — Jake Barren, Bonner Springs
THS medalists
125 — Justin Soetaert, fourth
171 — Jeremie Maus, first
215 — Jonas Myers, third
THS individual KVL records
119 — Anthony Baker, 0-2
125 — Justin Soetaert, 2-2
135 — Britton Price, 2-2
145 — Patrick Rachford, 1-2
152 — Ian McClellan, 0-2
160 — Thomas Miller, 0-2
171 — Jeremie Maus, 3-0
189 — Zach Kaighin, 1-2
215 — Jonas Myers, 2-1
285 — Ty Barton, 0-2