Memory lapse leads to
THS

loss at

SFT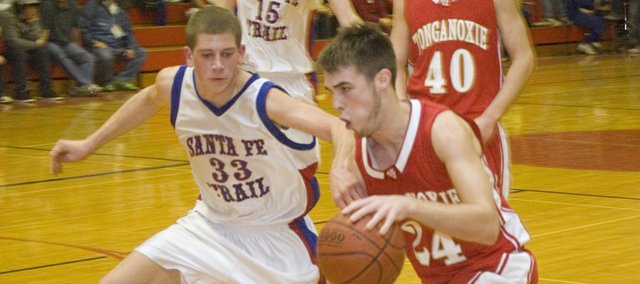 Carbondale — The Tonganoxie High boys basketball team completely forgot about its to-do list Friday night.
The Chieftains knew they had a few things to take care of if they wanted to defeat the league's second-best team on the road, but those tasks slipped their minds.
The short-term memory loss cost them a five-point halftime lead and a victory as they fell at Santa Fe Trail, 67-58.
"We didn't come out and do any of the things we talked about at halftime," lamented Tonganoxie coach Shawn Phillips.
The Chargers (12-3 overall, 8-1 Kaw Valley League) scored their first 10 second-half points in the paint and took momentum. Phillips said SFT was able to take over because his team had no help-side defense from its perimeter players and it failed to get the ball inside on offense.
"The total lack of execution of game plan," Phillips said, "that cost us and that disappoints me that we didn't do the things that got us the lead in the first half."
In the first two quarters, the Chieftains (8-8, 5-4) led by as many as eight points as Justin Jacobs, Dane Erickson, Keaton Schaffer and Austin Vickers all scored easy buckets.
"We got a lead because we pounded the ball inside and scored from two feet and all of a sudden we came out shooting jump shots in the second half," Phillips complained after his team went 12-for-32 in the final 16 minutes.
The players admitted their errors after the loss. Schaffer said THS had no business giving up "two-foot shots" while "jacking up 20-footers" on offense.
"We came out with no intensity in the second half," said Schaffer, who led the team with 22 points. "We didn't execute anything like we should've."
Junior point guard Jeremy Carlisle, who passed out eight assists in the setback, said Tonganoxie lost its edge after intermission.
"I think in the third quarter especially, they were more physical and more intense than us," Carlisle said. "We just came out dead and we weren't ready to play."
Despite being outscored 26-14 in the third quarter, a fourth-quarter push by the Chieftains cut their deficit to a point.
Schaffer and Carlisle scored in transition, while Jacobs and Dylan Scates scored in the paint and THS opened the final period on an 8-2 run.
However, SFT responded with a 10-0 stretch that put the game away.
Though Tonganoxie is coming off a loss, Phillips noted his team has been on a decent roll of late, winning three of its last five with the two losses coming to the league's top two teams, Basehor-Linwood and Santa Fe Trail.
Carlisle said that gives the squad confidence as it closes out the regular season during the last two weeks of February.
"We're still looking to win these last four games, finish strong going into sub-state and hopefully get a shot at going to state," Carlisle said.
THS plays host to Lansing on Tuesday at 7:30 p.m.