Wrestlers retire shoes of fallen teammate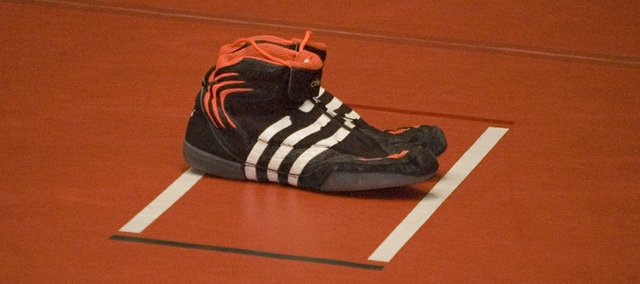 Senior Nights are always something to remember, but this year, Tonganoxie High's wrestlers took part in a ceremony that will forever be etched in their minds.
Before competing against Perry-Lecompton on Thursday, THS seniors Austen Holloway, Zach Kaighin and Jeremie Maus honored a fallen teammate.
The trio remembered former teammate Jeremy Elliott, who died April 17, 2009, by retiring his wrestling shoes in the center of the mat before the evening's matches began.
Chieftains coach Jeremy Goebel said the entire team was invested in honoring Elliott, who would have been a senior on the team this season.
"As a coach, there was just something that needed to be done because Jeremy meant so much — not only on the mat but just what he represented off it," Goebel said.
Tonganoxie did its best to honor Elliott's memory as the Chieftains made very quick work of a depleted Perry-Lecompton squad, winning six contested matches — all by pinfall — to defeat the Kaws, 54-0, in the dual.
Goebel described Elliott as someone who made his teammates stronger and said Thursday night was no different.
"The stage was set tonight for Jeremy," Goebel said. "Was it the best team we ever wrestled? Probably not. Was it the best we performed this year? Yeah. I think we had some extra help."
Kaighin and Maus were close friends with Elliott, so the night meant a great deal to them.
Lisa Elliott, Jeremy's mother, had given Maus the wrestling shoes shortly after he died. Maus said the shoes had been on a shelf in his room since last April and he had long anticipated doing something special with them.
"That's the way I wanted to send him off," Maus said.
Kaighin was moved by the event.
"I think about him all the time," the senior said of Elliott. "He's like never off my mind. It gave me chills going out to get his shoes."
Holloway didn't even get to wrestle on his Senior Night, but it hardly mattered to him, given the significance of the evening.
"After I heard what we were going to do with the shoes, that sounded more important to me than actually wrestling a match," Holloway said.
Goebel was glad his team honored Elliott not only with a ceremony but with a dominating performance.
"It was great to be able to end it the right way," the coach said.
Tonganoxie's seniors plan to hang Elliott's shoes in the THS wrestling room.