Rev. Presley
Tonganoxie pastor has been 'clowning' on Elvis for 17 years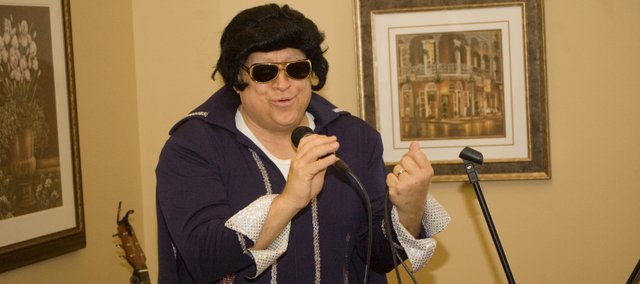 Rev. Francis Stockton loves to sing and has been a devoted minister in the United Methodist Church for nearly three decades.
Oh, and on occasion he dons a jumpsuit and performs as an Elvis impersonator or, as he calls it, a "clown."
"I'm not an Elvis impersonator," Stockton explained.
"That's people paying tribute to him. I have a clown character based on Elvis. What I do is clowning."
For the past 17 years, Stockton, currently the pastor at Tonganoxie United Methodist Church, has figuratively put on his blue suede shoes and transformed into Elvis. He said he averages about five or six gigs per year.
His Elvis clowning career started in Ottawa when he was pastor there. Preparations were in order one year for the annual citywide Christmas concert. At a committee meeting, someone mentioned they wished a vocalist would sing Elvis Presley's "Blue Christmas."
Stockton, who had played the guitar for years, said he could grant that wish. Of course, it wasn't going to be just Stockton singing an Elvis song.
"I can sew you a jumpsuit," the woman told Stockton.
Ottawa High School recently had performed "Jesus Christ Superstar," in which one character dressed as Elvis. Stockton borrowed the Elvis wig used in the play for his "Blue Christmas" performance and had a three-piece band accompanying him.
Before Elvis left the building that night, Stockton said he had a handful of requests for him to perform at other functions.
On the circuit
Las Vegas might be the place for many Elvis impersonators, but Tonganoxie's Elvis can be found performing at nursing centers and retirement communities.
Recently, he performed at Vintage Park, an assisted living community in Tonganoxie.
Equipped with his guitar, a computer and a speaker, Stockton cued various songs as he played Elvis CDs on his computer.
Throughout the performance, Stockton cracked jokes.
"I'd shake my knees at you, but I'd have to go home and get them," Stockton mused. "These are replacements."
Stockton formerly wore a white jumpsuit. The original white jumpsuit came complete with snowflakes. When he later moved to Osage City, a seamstress there made him an all-seasons navy blue jumpsuit accented with silver.
"I look even fatter in a white jumpsuit," Stockton said.
Poking fun at himself throughout the performance, Stockton was working overtime on this occasion. His wife, Donna, normally accompanies him and handles cuing his various songs. On this day, however, because Donna was ill, Stockton had to do a little more ad-libbing as he sifted through CDs in an attempt to find his next selection.
The minister, though, didn't miss a beat. He would turn to his left and ask for applause for his imaginary backup performers or crack yet another joke.
"It's in my contract to say 'thank you, thank you very much,'" Stockton said.
Not necessarily an Elvis fan
Stockton admits that his favorite musicians originated across the pond.
"I'm a Beatle maniac," Stockton said. "But I can't sing like Paul McCartney."
Stockton, though, has something in common with Elvis Presley — a love for gospel music.
After finishing an array of Elvis' biggest hits, such as "Return to Sender," "Don't Be Cruel" and others, Stockton performed "How Great Thou Art" and "Amazing Grace."
Those gospel hymns are what he enjoys performing most. Being in costume allows him to break loose with those songs also.
"Francis Stockton sings the hymns pretty straight," Stockton said. "Elvis, he feels them. A lot more emotion in the singing than Francis does. And that's satisfying to me.
"I wouldn't do it if I couldn't carry the Gospel. It's just another way of bringing people together with Jesus."
At a recent Sunday service, Stockton told the congregation about his upcoming gig. Parishioner Sue Nible attended, as she hadn't yet seen her pastor perform his jester version of the King of Rock and Roll.
"It was entertaining for folks," Nible said. "He enjoys what he does.
"He's just a colorful character. He is a very good minister. He has a good sermon and he makes you think."
Stockton estimated that 90 percent of his performances are at retirement communities, though he's done the occasional city fair or performed at an Elk's Lodge.
"When someone in an organization is supposed to get a program for the group and didn't, that's when I get a call," Stockton joked.
And though he "clowns on Elvis," Stockton says the best compliment is from die-hard Elvis fans — those who, as he said, "didn't want to like me, but liked me anyway."
"The one backlash is the old lady with the Elvis license plate," Stockton said. "She's offended by some of the things I do and then I start singing and I'm not too bad."