Big runs bookend 16-point Tonganoxie 'W'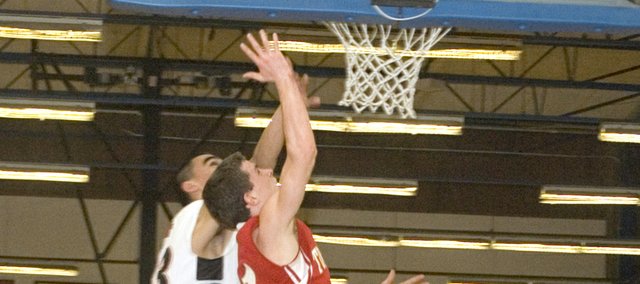 Kansas City, Kan. — Leading by just six points after three quarters, the Tonganoxie High boys basketball team made sure to put away the Cyclones in the fourth.
The Chieftains won easily, 60-44, thanks to a huge run and eight fourth-quarter points from senior forward Keaton Schaffer.
Up 40-34 entering the fourth, THS (10-8 overall, 7-4 Kaw Valley League) opened the final period with a 14-2 run that lasted into the game's final two minutes.
To go with Schaffer's four buckets in the final push, Tonganoxie got a putback from senior forward Justin Jacobs, a basket inside off a pretty dropstep from sophomore center Dane Erickson and two free throws from junior point guard Jeremy Carlisle, who went 8-for-9 at the stripe in the victory.
The closing run was nearly as good as the one the Chieftains produced out of the gates, when they got out to a 16-2 lead in the first quarter.
Schaffer had six points in that stretch, Carlisle put up five, Erickson scored in the paint and Jacobs drained a three-pointer.
Schaffer finished the game with 25 points, six rebounds and four assists.
Carlisle passed out six dimes to go with six boards and 10 points.
Erickson had 11 points and seven rebounds.
THS travels Tuesday to Mill Valley in Shawnee for a 7:30 p.m. tip.
Score by quarters
THS 19 11 10 20 — 60
Ward 12 7 15 10 — 44
Tonganoxie scoring
Dane Erickson 5-10 1-2 11, Keaton Schaffer 11-20 3-5 25, Jeremy Carlisle 1-5 8-9 10, Austin Vickers 1-5 0-0 2, Justin Jacobs 3-4 0-0 7, Dylan Scates 2-3 0-0 5, Colby Yates 0-0 0-1 0.