THS

girls fall just short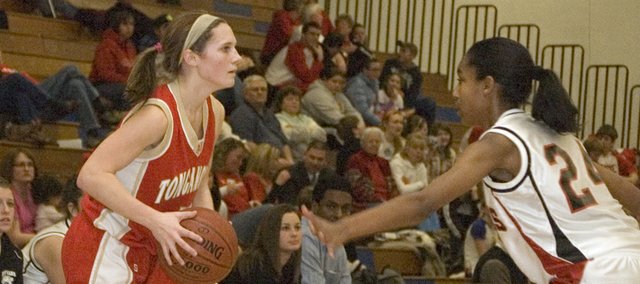 Kansas City, Kan. — A 10-foot jumper from Tonganoxie High senior guard Andie Jeannin just missed and the Chieftains fell at Bishop Ward, 49-47, on Friday.
The Cyclones were at the foul line with just nine seconds remaining and a two-point lead, but Hannah Barnhart missed both attempts.
THS senior guard Lauren Hall tracked down a long defensive rebound on the second miss and a mad scramble followed after Ward (12-7 overall, 8-4 Kaw Valley League) knocked the ball out of Hall's grasp.
Junior Tonganoxie forward Danielle Miller secured the loose ball from the scrum near mid-court as coach Randy Kraft was screaming for a timeout with just 4.4 seconds left on the clock.
Out of the timeout, Jeannin got the ball and drove down the left side, finding herself relatively open on the wing. She pulled up for a 10-foot shot just before the buzzer and it rimmed out.
The Chieftains (6-12, 4-7) had a seven-point halftime lead and a 37-32 advantage after three quarters but Ward went on a 13-5 run to open the fourth and take the lead for good.
THS freshman forward Jenny Whitledge scored seven of her team-high 16 points in the fourth.
Fellow frosh Hannah Kemp had eight points and five assists.
Hall hit two three-pointers for Tonganoxie.
The Chieftains travel to Mill Valley on Tuesday for a 6 p.m. road game in Shawnee.
Score by quarters
THS 8 15 14 10 — 47
Ward 12 4 16 17 — 49
Tonganoxie scoring
Andie Jeannin 2-7 0-0 4, Lauren Hall 2-3 0-0 6, Danielle Miller 1-3 3-6 5, Jenny Whitledge 6-11 4-7 16, Hannah Kemp 3-6 2-4 8, Haley Smith 1-2 0-0 2, Tavia Brown 3-5 0-0 6.