Game-tying buzzer-beater just misses in Chieftains loss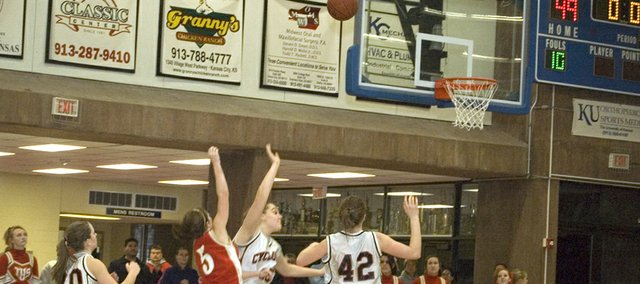 Kansas City, Kan. — Andie Jeannin didn't want to hear the compliments.
Everybody kept telling her how good her last shot looked Friday night after Tonganoxie High's girls basketball game against Bishop Ward.
But that didn't make the senior guard feel any better about her team's 49-47 loss to the Cyclones that ended with her potential game-tying buzzer-beater rimming out.
With 4.4 seconds left, Jeannin received an in-bound pass, drove the ball from the left wing and found herself with a relatively open 10-foot jumper just before time expired.
She said the shot felt as good as it looked.
"Yeah, and I was so open. I wasn't expecting to be that open," Jeannin said with a sigh. "It's frustrating."
THS coach Randy Kraft said he and his players were disappointed by the outcome but he was pleased by the execution on the game's final play.
"We had a chance," Kraft said. "That's all you can ask."
Jeannin's good look was one of two options out of the team's final timeout.
"Andie was intended to get the ball and make a decision," Kraft said. "We had Lauren (Hall) in the corner to go for the three and the win if she's open. If not, the basket's open and Andie can get what she can. She got a good look out of that."
It was a pressure shot for Jeannin, who finished with just four points against the Cyclones.
"I feel a lot of pressure," she said, "especially since I'm a senior and I'm a leader on the team."
Her teammates, though, appreciate her filling that role.
Freshman guard Hannah Kemp, who had eight points and five assists for Tonganoxie (6-12 overall, 4-7 Kaw Valley League), said she was ready to celebrate when Jeannin released the shot.
"I thought it was going in," Kemp said, calling the loss a "heartbreaker."
The Chieftains had a seven-point halftime lead and a 37-32 advantage after three quarters but couldn't hold on against Ward (12-7, 8-4).
Kraft said the Cyclones, led by senior Kylie Burns, played a gritty second half.
"Third and fourth quarter, they got up in us a lot stronger, a lot tougher," Kraft said. "We didn't execute and late in that last two or three minutes we didn't rebound well."
Also troubling for THS was second-half free-throw shooting as the team was just 6-for-13 at the line.
Nevertheless, Kraft said the players should focus on the progress they've made this season, citing Tonganoxie's three games against Ward.
"Obviously you're gonna be down because it's a loss," the coach said, "but the fact is they beat us by 25, 26 — whatever it was — earlier in the year then we lost to them by 10 and this time we lost to them by two on the road, so we're getting better. I think the kids see that."
On Dec. 8 in Paola, Ward won 68-35. Earlier this month at THS, Ward prevailed 48-40. Following Friday's two-point setback, Kemp said THS is heeding Kraft's advice.
"I feel like we're improving a lot and you can tell from our games playing Ward that we're getting better," she said.
With the regular season ending this week, there isn't much time for more improvement.
Sub-state games begin next week and Kemp said THS is looking forward to the postseason.
"We're excited to prepare for sub-state so we can get out there and just bust it," she said.
Freshman forward Jenny Whitledge led Tonganoxie with 16 points and five rebounds against Ward.