Man on a mission: Maus wins title for Elliott
Hand places 4th, qualifies for state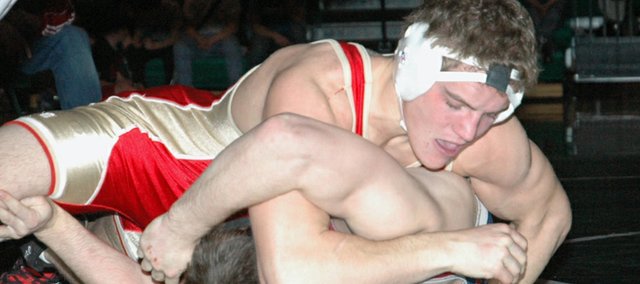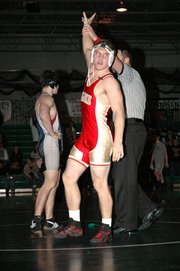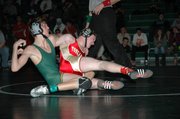 Photo Gallery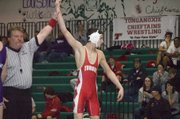 THS wrestling at De Soto regional
Tonganoxie High's wrestling team competed for spots at the Class 4A state tournament this weekend at a regional tournament in De Soto.
Throughout his senior season as a Tonganoxie High wrestler, Jeremie Maus has talked with an old friend before each match.
Although Jeremy Elliott died in April of last year, Maus has made sure to remember his former teammate and even says a few words to him every time he takes the mat.
Saturday at De Soto was no different. Entering the biggest match of his career to date, Maus could have been driven by his own selfish desires — to win his first regional championship.
Instead, he stuck with his routine, had a pep talk with his fallen pal and dedicated the match to Elliott.
"Mainly, I wanted to win that for him," Maus said.
It took just 1 minute, 28 seconds for Maus to pin St. James Academy's Derek Feist and win a regional title for Elliott.
The victory completed a dominating weekend for the Chieftains senior, who picked up three wins Friday with a pair of pinfalls and a 9-5 decision.
THS coach Jeremy Goebel said Maus was determined to prove he was the best 171-pounder at the Class 4A regional.
"After Friday night's semis match, that finals match he went out there and wrestled like a regional champ," Goebel said, impressed with how his star pupil asserted himself against Feist.
Maus knew entering his final that he was going to state — the top four in each weight class earn a trip — but securing a regional crown had been one of his goals this year and he said it felt great to not only win a title but also earn his first state berth.
"It was like a huge weight got lifted off my shoulders," Maus said.
Hand takes 4th
Entering the regional tournament, Maus was the only Tonganoxie wrestler considered a lock to go to state.
But teammate Tyler Hand, a 130-pound long shot who entered the weekend with an 8-13 record, made sure Maus wouldn't make the trip to Salina alone.
After getting knocked to the consolation bracket with a Friday quarterfinal loss, Hand remembered that Goebel had said anything could happen at a regional tournament.
"I just put it behind me that night and looked at it as a new day," Hand said.
Saturday, the junior showed new promise. He won his first consolation match with a pin in 29 seconds, then scored another pinfall victory in 1:19 his next time out.
That put Hand in the consolation semifinals — the same place he was a year ago, one win away from state.
"I was beyond nervous," he said. "I was a wreck."
Before the match, Goebel emphasized the opportunity Hand had in front of him.
"This is something you've worked for," the coach told him. "Go get it. Don't let anyone stop you."
Hand responded with a 9-4 decision against Louisburg's Jacob Herbert to advance to the consolation final.
Even though Hand lost to Tyler Simpson of Basehor-Linwood in the third-place match, he was euphoric about finishing fourth and earning a trip to the state tournament.
"It was by far the best feeling I've ever had," Hand said.
Season over for 9 Chieftains
However, Tonganoxie's nine other grapplers didn't have as much to be excited about at De Soto.
They were all eliminated from medal contention on Saturday, ending their 2009-10 campaign.
Still, Goebel said the regional, where the Chieftains combined to go 15-20, was the best outing the group had all season.
"I thought the kids wrestled extremely hard and I thought all of them peaked at the right time," Goebel said.
THS senior Zach Kaighin reached his consolation semifinal and was one win away from qualifying for state, but the 189-pounder lost a 4-2 decision to Santa Fe Trail's Edward Fitzgerald.
Both Maus and Hand thought Kaighin, who went 3-2 at De Soto, would join them at state.
"I'm definitely disappointed. I was thinking for sure that Kaighin was going to go," Hand said.
Four other Chieftains got in the win column at the regional. Freshman 135-pounder Britton Price was 2-2, while sophomore Anthony Baker (119) went 1-2, as did junior Justin Soetaert (125) and sophomore Patrick Rachford (145).
Next up, Salina
Hand and Maus will leave Thursday morning for the Class 4A State Tournament, which begins Friday morning at the Bicentennial Center in Salina.
Their coach said they need to relax and wrestle, like they did at De Soto, to find success.
"If we just approach this tournament like any other tournament, they're gonna do very well," said Goebel, noting the two have a good opportunity ahead and they need to run with it.
Maus and Hand said they would have different approaches this weekend.
The senior is aiming for a state medal.
"I'm just glad to have the experience," said Maus, who enters the tourney with a 36-5 record. "Now my goal is to actually get out there and place."
Hand, though, expects to soak it all in.
"There are going to be some amazing kids there … I'm just gonna go have fun," said the junior, whose record stands at 11-15.
Matches begin Friday morning. Hand opens with Tyson Schmidtberger (36-0) of Russell and Maus' first-round opponent is Blaine Tholstrup (22-18), Concordia.
De Soto Class 4A regional
Team scores: 1. St James Academy, 158; 2. Eudora, 157.5; 3. Baldwin, 148; 4. Louisburg, 136.5; 5. Basehor-Linwood, 104.5; 6. Santa Fe Trail, 99.5; 7. Spring Hill, 80.5; 8. Ottawa, 74; 9. Paola, 69.5; 10. Piper, 62.5; 11. De Soto, 59.5; 12. Tonganoxie, 59; 13. Osawatomie, 51; 14. Sumner Academy, 39; 15. Bishop Ward, 11.
Tonganoxie medal winners
130 — Tyler Hand, fourth
171 — Jeremie Maus, first
Tonganoxie records at regional
119 — Anthony Baker, 1-2
125 — Justin Soetaert, 1-2
130 — Tyler Hand, 3-2
135 — Britton Price, 2-2
145 — Patrick Rachford, 1-2
152 — Ian McClellan, 0-2
160 — Thomas Miller, 0-2
171 — Jeremie Maus, 4-0
189 — Zach Kaighin, 3-2
215 — Jonas Myers, 0-2
285 — Ty Barton, 0-2