Tonganoxie attacks early and often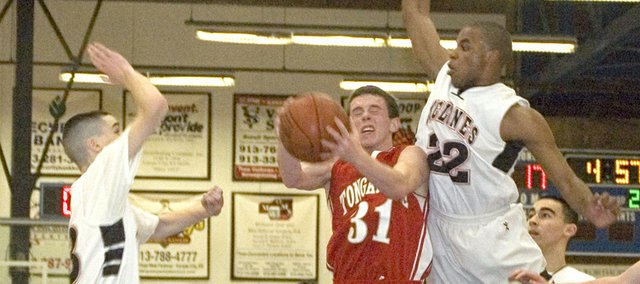 Kansas City, Kan. — There's nothing like a quick spurt out of the gate to discombobulate an opponent.
A big early lead helped Tonganoxie High's boys basketball team to a 60-44 win against Bishop Ward on Friday, and the last two games that has been the Chieftains' signature move.
Three days after jumping out to a 15-2 lead in a home victory against Lansing, THS was up 19-5 in the first quarter of a road victory against the Cyclones.
Tonganoxie coach Shawn Phillips said his team has been erupting early in games because of the quality shots the players are getting inside the paint.
"We come into every game with a game plan of how we want to execute and we really want to put an emphasis on shooting the basketball from close range, whether that be from guards coming off ball-screens or people cutting to the basket or getting the ball in the post," Phillips said.
The Chieftains (10-8 overall, 7-4 Kaw Valley League) had a bit of that and more in the first quarter Friday.
Dane Erickson scored the game's first bucket inside and Keaton Schaffer and Jeremy Carlisle combined to score six fast-break points. But there also were some drives with dishes as Schaffer set up Justin Jacobs for a three-pointer and Carlisle hit Dylan Scates for a long-range basket. Throw in three free throws from Carlisle, who drew contact inside, and a smooth mid-range jumper from Schaffer and the Cyclones were down 14 before they knew what hit them.
Even though THS knocked down two threes in its opening run, Phillips continued to emphasize the importance of scoring inside to protect and maintain big leads.
"We have guys that can really finish around the rim," the second-year Tonganoxie coach said, "so if we can shoot it from there, why would you want to shoot it from farther away?"
Carlisle, who scored 10 points, grabbed six rebounds and passed out six assists, said his team was playing at a high level.
"It felt really great tonight," he said after the 16-point win. "Everything happened to get rolling for us."
No one was feeling it more than senior forward Schaffer, who was 11-for-20 from the field and finished with 25 points, six rebounds and four assists.
He credited Erickson, the team's sophomore center who went for 11 points and seven rebounds, for making it easy.
"Dane got a lot of attention tonight, so that just opened up the whole middle for me," Schaffer said.
The Chieftains led by 11 at halftime, but Ward cut the lead to six after a slow third quarter for THS.
Schaffer said his team has struggled to match its first-quarter production in the third and joked about the reason.
"I think it's just Phillips' speeches. He has to give a better halftime speech," said a grinning Schaffer with his coach within earshot.
That drew a hearty laugh from Phillips, who said he wasn't too disappointed in Ward's 15-10 third-quarter advantage.
"They cut into our lead but they hit some tough shots in the third quarter," Phillips said. "(C.J.) Vallejo hit several guarded shots with a guy right in his face."
Plus, THS put away Ward with a 14-2 run to open the fourth quarter.
"We ended up pushing the lead up instead of letting them come all the way back," the coach noted.
Earlier this season, Tonganoxie had struggled to protect big leads, but Schaffer thought the team has escaped that bad habit and proved it can close out games.
"We did it in the fourth quarter and we got them down and kept them down," he said.
Phillips likes the level at which the Chieftains are performing entering their final week of the regular season.
"We're playing pretty well right now," he said. "Hopefully we can develop some confidence and feel like we can beat anybody going into sub-state."