Firefighters respond to blaze at modular home northwest of Basehor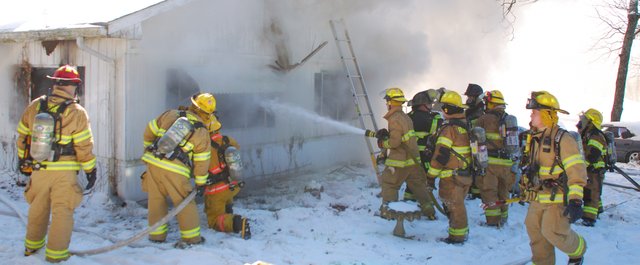 Basehor — Though one person reportedly was trapped during a modular home fire Wednesday northwest of Basehor, the resident escaped, according to a fire official.
The blaze started about 10:15 a.m. Wednesday at the southeast corner of 163rd Street and Hollingsworth Road, according to Stranger Township Fire Chief Bert Dunahm. He said it was reported a person was trapped in the home, but when firefighters arrived, the person had escaped. Leavenworth County Emergency Medical Service treated the resident on scene, Dunham said.
Dunham said the cause of the fire was unknown, but that it was a difficult fire to tackle because it was a modular home with a false roof.
Fairmount Township Fire Department was the lead department at the scene, Stranger Township, Leavenworth County Fire District 1 and Tonganoxie City also were at the scene, as was the American Red Cross.
The fire chief said two cats also were in the residence, but escaped the fire.