Resident submits aiport petition to commission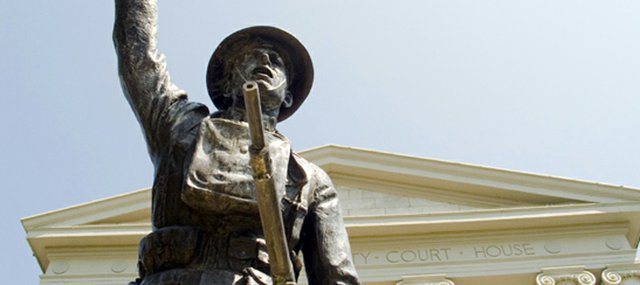 After almost a three-month endeavor, a Leavenworth County resident has thrown a wrench in the plans for an airport in the county.
Since the Leavenworth County Commissioners passed a charter resolution Dec. 3 allowing the county to establish an airport, Irene Tork has been working to put the future of that airport in the hands of voters. To do so, Tork needed to collect 618 signatures from registered Leavenworth County voters on a petition that would force the county to put a decision about the airport on an election ballot.
At Thursday's Board of County Commissioners meeting, County Clerk Janet Klasinski announced Tork had collected more than 1,200 signatures from residents in all areas of the county. Klasinski said she had verified more than 618 of those signatures were valid, and thus, Tork's petition left commissioners with a choice: drop the issue for now or call a special election to the tune of about $30,000.
An election would have to be called within 30 days after confirming the petition and the election held within 90 days if the commissioners wanted to put it to a vote.
In 2008, Coffman Associates of Lee's Summit, Mo., concluded from a feasibility study Leavenworth County was a viable place for a new airport, which would be used for business purposes, not commercial. The county, Tonganoxie, Lansing, Leavenworth, Basehor and the Leavenworth County Port Authority spent about $100,000 on the study.
Next in the process would be site selection, or determining the exact location for the airport within the county. This study could cost $150,000, 95 percent of which the Federal Aviation Administration agreed to pay. The remaining cost would be divided between each city in the county and the county itself.
Tork's mission to collect the petition signatures spurred from her contention Leavenworth County did not need an airport when airports already existed in nearby locations such as Lawrence, Olathe and Fort Leavenworth.
The commission chose to table the item until its Feb. 25 meeting, when County Counselor David Van Parys would be present.
Also at Thursday's meeting, the commission:
• Approved the minutes of the Feb. 15 meeting.
• Discussed the county's plans for Internet capabilities in more rural areas.
• Discussed an earlier proposal made by Commissioner J.C. Tellefson regarding a consolidation of dispatch services with the City of Leavenworth, the Leavenworth County Sheriff's Department, the Leavenworth Police Department and the Leavenworth Fire Department. The idea has thus far been received unfavorably, but it's something Tellefson says he is still interested in looking into.