Students honor day 100 with 103 year old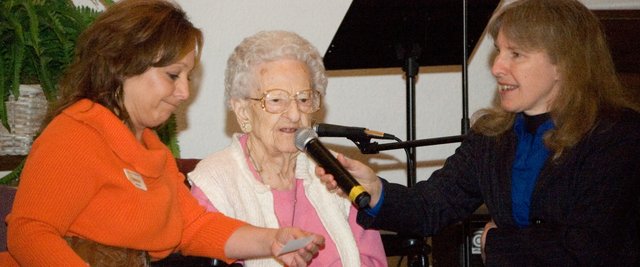 The two secrets to longevity in life are exercise and talking — if you ask Tonganoxie's Bertha Moore.
Originally from Olpe, Moore turned 103 in January and on Wednesday, Feb. 17, she spoke to about 125 Genesis Christian Academy students at the Tonganoxie Christian Church sanctuary.
Moore fielded students' questions that ranged from what she could buy with $1 when she was a youth to what life was like during the Great Depression.
Moore, a resident at Tonganoxie Nursing Center, was invited to speak to the class about her experiences as part of the school's annual celebration of its 100th day in school, which was this past week. Students celebrated in various ways, including making posters utilizing 100 pieces of the same material.
Kathy Link, GCA second-grade teacher, has worked with the nursing center through its pen pal program with her students. She had the idea of having someone from the nursing home who might be near 100 years in age speak to students to coincide with the 100th day celebration.
"I didn't think they'd have anyone close to 100 years old," Link said to students.
Students submitted questions for Moore, and teachers selected a couple from each class.
Moore needed a little help from Theresa DeKeyser, activities coordinator at Tonganoxie Nursing Center, to hear the students' questions.
But Moore, who was a nurse for 50 years, had an answer for most questions.
Her favorite food? Fried chicken.
Who was president when she was born? Theodore Roosevelt.
And, when doing farm chores as a child, she didn't like to milk cows.
"It was not my gift," Moore said. "I didn't like to do it."
Link also shared a couple humorous questions that students had written down for consideration:
Was Moore alive when Jesus was living and was she alive at the beginning of civilization?
George Moore, Basehor, who is Bertha's grandson, was in attendance for Bertha's question-and-answer session.
"That rates up there with one of the greatest things I've ever seen," George said. "It's amazing that she's able to do what she can — at 103 years old and willing to do it."
George spoke about his grandmother being an extremely compassionate person, and that she was a floor supervisor at Bethany Hospital "for as long as I can remember."
Though she can get frustrated by her hearing loss, Bertha doesn't seem to miss a beat. George said his wife helped Bertha continue to send out birthday cards.
She formerly lived at a nursing home in Madison, but the facility closed roughly seven years ago. George asked her at the time whether she wanted to move to this area, and she agreed with the suggestion. George said she had other family in the Kansas City area with whom she's also close.
In total, Bertha has two grandchildren, six great-grandchildren, 19 great-great grandchildren and one great-great-great grandchild.
"She's just a really cool person," George said. "I might be a little prejudice because I'm her grandson."