Students at
THS

,

TES

form bond through mentoring program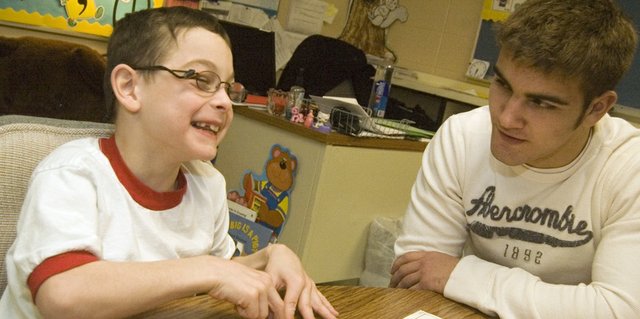 Shane Lewis wasn't crazy about reading.
He was maniacal about rock and roll and really into wrestling.
Reading? Not so much.
But that was a few weeks ago. That was before Shane, a second-grade student at Tonganoxie Elementary School, met Jonas Myers.
A sophomore in the "Leadership in Sports" class at Tonganoxie High School, Myers, like others taking the course, heads over to TES one morning a week to interact with young students and encourage them to work hard in school.
Knowing that Myers not only wrestles but also plays in the pep band at THS, Brandon Parker, who teaches the leadership class, set him up with Shane because he figured the pair would be a pretty good fit.
Parker had no idea how right he was.
The two immediately hit it off when they met in January. Shane said it was because of their common interests.
"First of all, he is cool and he likes the things I like, which is really also cool," he said.
Shane's exuberant personality, Myers said, made it easy for someone nearly twice his age to become his new friend.
"He's just a blast to be around," Myers said, noting the youngster's ability to make him laugh.
In the meantime, Shane's enthusiasm for his weekly visits with Myers forged a newfound interest in reading, something he once considered far from exciting.
Myers and Shane, an 8-year-old with cerebral palsy, meet in the TES resource room with special education instructor Shelby Noonan every Thursday morning. Since they started doing reading exercises together, Noonan said, Shane has shown more confidence and a positive attitude.
"He often asks me questions like, 'What would Jonas do?' or 'What would Jonas think of my positive attitude?' or 'Can we save this book and read it to Jonas?'" Noonan related.
But the impact goes far beyond reading. Shane likes the time he and Myers spend talking and joking, too.
"We usually read and hang out and walk around and he meets everybody, all my friends and everybody," Shane said.
TES rock star
He wasn't kidding. During their Feb. 11 session, Shane paraded Myers around the school, introducing his buddy to everyone they saw.
The duo made a pitstop in Tiffany Parker's kindergarten classroom, where Shane, known at school for his fascination with music, decided to sing "We Will Rock You" to the students — or as he sometimes calls them, his "fans."
The performance was a crowd-pleaser. Said one kindergartener after the performance of the Queen anthem: "Hey, Shane, that's my favorite song now."
It wouldn't be a stretch to crown Shane with rock-star status at TES. His popularity reached a whole new level earlier this month after he served as the water boy for Tonganoxie's wrestling team at a Feb. 4 home meet. Classmates and faculty talked about seeing him on the bench after Myers and THS wrestling coach Jeremy Goebel invited Shane to help out and watch some matches up close.
What's more, Myers told Shane he had expanded his fan base to the high school, where a number of girls asked about him afterward.
That made Shane giggle and say: "I don't have to be a rock star to actually be famous."
Noonan said Myers helps Shane feel good about himself.
"These high school students have no idea the positive impact they are having on the student's life," she said. "They say a simple 'you can do it' and our students are believing in it and talking about it for weeks."
The difference was even evident at home for Shane's mother, Robin Jackson. She said her son's relationship with Myers has brought something new and exciting to his life and Shane has thrived because of the interest Myers shows in him.
"I think it's because he (Myers) likes him so much," Jackson said of why Shane has responded so well. "He shows that he cares about him."
Inspiring young students
Similar responses have been seen at the elementary school the past two academic years. Brandon Parker started sending THS leadership students there during the 2008-09 year and while not everyone spends the same one-on-one time as Shane and Myers, the interactions have been a roaring success.
Parker said the idea sprung because he wanted high school athletes to realize they are role models to young Tonganoxie children.
"I think a big part of being in the leadership class is learning how to give back," Parker said. "At the elementary it's big because when I was growing up I can always remember having high school kids that I looked up to."
A total of 20 THS students provide assistance in 12 different elementary school classes each week.
The program started last year with the use of baseball-type cards that featured high school students from the leadership class.
The front of the card had a THS athlete's picture and name and the back listed things such as his or her favorite cartoon, subject and sport.
The cards were a hit in the third-grade class taught by Chris Baska, now the TES reading specialist. Her class was preparing for testing, which she said can be difficult.
But the students were determined to do well when Baska used the cards as a reward.
"They got one every time they raised their score," Baska said. "It really was motivating because they wanted the whole set."
She said the cards worked because high school students came in and interacted with the third-graders, and that created a voice and personal relationship to go with the pictures on the cards.
Important characteristics
This year, the cards are different. They're called "Chieftain Character" cards and each features a THS student with a positive word or phrase on the front.
Included on the back is a hand-written message from one of the athletes — Jeremy Carlisle, Lindsey Fatherley, Lauren Hall, Jeremie Maus, Molly O'Hagan and Connor Olsen.
The messages intend to inspire the students and teachers can use the cards in whatever manner they see fit.
In Tiffany Parker's kindergarten class, she rewards students with a card if they've struggled with a certain characteristic in the past. Once a student displays progress with an attribute, he or she receives a card.
If someone started paying better attention in class, for instance, the student receives a Fatherley "Listen" card.
The concept, Brandon Parker said, has provided incentive and developed results.
"Last year and this year," he said, "kids that weren't able to do things, now are able to do them."
Making an impact
Their positive impressions aren't lost on the THS athletes.
"It makes me fell more than like just a normal high schooler," O'Hagan said. "Making a difference in a little kid's life is awesome."
Hall was impressed by how recognizable she and other athletes have become with TES students.
"When they come up to you, they know your name, they talk to you, they strike up a conversation," she said.
Fatherley said helping the kids every Friday morning fires her up before games.
Myers has only spent a few weeks with Shane but said the experience is already rewarding.
"Just to show love to him and really know that I'm making a difference, it's really awesome," he said.
Shane has to stay on top of his school work to keep hanging out with Myers, so with their burgeoning friendship, it's easy for Shane to remain inspired.
"Every time he comes," Shane said, "he encourages me to be positive and read really good."
They both look forward all week to their Thursday mornings and the connection has Shane almost as crazy about reading as he is about rock and roll and wrestling.
Two weeks ago, Shane completed a reading exercise in record time. Noonan asked him why he was so focused on the assignment.
"Because I'm happy," he said.