TNC

residents,

GCA

students become pen pals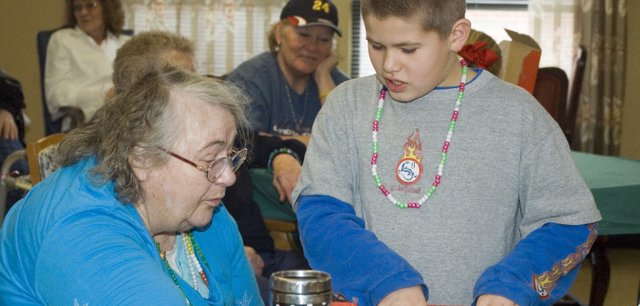 Cards, a play and more.
Genesis Christian Academy second-graders visited their pen pals recently at Tonganoxie Nursing Center.
Students showered their pen pal counterparts with plenty of Valentine's Day cards and then performed a play called "Spiderella."
Youths also read Bible verses and showed TNC residents their school projects.
Elizabeth Szabo is paired with Peyton Reeves this semester.
"Very nice, very nice," Szabo said about the visit from GCA students.
Second-grader Sarah Brundage is paired with Christine Broughton this school year.
Broughton's daughter, Lois Covey, was on hand for the students' visit. Students also brought flowers for the residents.
"I think it was a really great idea for them to come out and provide entertainment," Covey said. "They seemed like they really were enjoying themselves."
Nursing center residents who are participating in the pen pal program, along with Szabo, are Christine Broughton, Kenny Atwell, Onas Waltho, Shirley Lowe, Rose Greenwood, Beverly Gibler, Dolores Finley, Viola Seuser and Flora Keller.