Tonganoxie boys hold off Piper
Chieftains lock up 3rd place in
KVL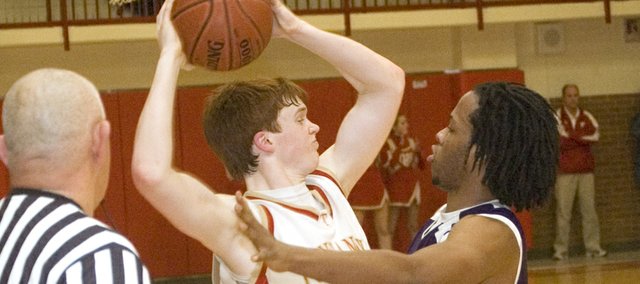 A few more points would have made things more comfortable, but Tonganoxie High's boys basketball team hit just enough fourth-quarter free throws to hold off Piper Friday night.
The Chieftains missed seven at the foul line in the final five minutes but edged the Pirates, 68-62, to wrap up third place in the Kaw Valley League.
THS junior point guard Jeremy Carlisle hit his first two free-throw attempts of the final quarter but he and his teammates made just seven of 14 the rest of the way.
Austin Vickers was 1-for-2, as was Keaton Schaffer, but Carlisle had some troubles at the line before finding his cool when it really mattered.
The speedy floor general hit only the back end of two attempts twice and was visibly frustrated when he missed both chances with 40 seconds left and his team up five.
Piper senior Russell Loomis drained a three-pointer on the next possession, cutting Tonganoxie's lead to 64-62.
Not surprisingly, Piper fouled Carlisle with 24 seconds on the clock. After missing his first, he hit his second and returned to the line with 18 to go following a Chieftains defensive stop and hit both free throws to put his team ahead 67-62.
THS coach Shawn Phillips reassured Carlisle, who finished with 18 points and seven assists, after the win that he will likely be in that same spot next time out and hit the charities just fine.
"He's a guy that we want on the line down the stretch," Phillips said. "He's usually pretty good at it. Even the best shooters have off nights, so I'm not worried about it in the least — he'll be fine."
While Carlisle's seven free throws provided the bulk of his team's fourth-quarter scoring, Vickers was just as big.
The junior forward scored all six of his points in the fourth, including a tough transition layup and a three-pointer from the left corner.
Tonganoxie's two seniors — Schaffer and Justin Jacobs — enjoyed themselves on Senior Night.
Although Piper's defense focused on limiting Schaffer, he scored 16 points, dished seven assists, grabbed five boards and blocked three shots.
Jacobs, meanwhile, was a bucket away from a double-double for the second game in a row, scoring eight points and grabbing 10 rebounds.
Sophomore pivot Dane Erickson scored nine of his 17 points in the second quarter, when Tonganoxie (12-8 overall, 9-4 KVL) scored 25 points, and finished with six rebounds.
The Chieftains open postseason play with a 7 p.m. Tuesday home game. They will play host to Atchison for a first-round sub-state matchup.
Score by quarters
PHS 13 17 11 21 — 62
THS 11 25 14 18 — 68
Tonganoxie scoring
Dane Erickson 8-11 1-3 17, Keaton Schaffer 6-16 4-6 16, Jeremy Carlisle 4-9 9-15 18, Austin Vickers 2-4 1-2 6, Justin Jacobs 4-8 0-0 8, Dylan Scates 1-3 0-0 3.