Business owners, local officials weigh in on new interchange and its anticipated impact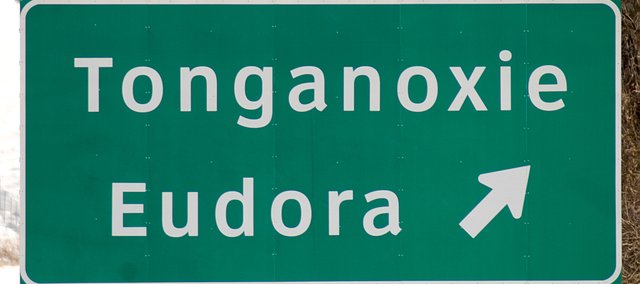 Days after the Tonganoxie/Eudora interchange on Kansas Turnpike opened, Matt Bichelmeyer already was seeing traffic coming to his downtown Tonganoxie restaurant, Bichelmeyer's Steakhouse.
He said a group of eight people from Lawrence told him they wanted check out the new interchange and visited Tonganoxie for the first time. They stopped at the restaurant and planned to tell their friends about their great experience. Bichelmeyer said he's had more people coming from Lawrence via the new interchange as well.
He anticipates Tonganoxie getting more traffic from points west rather than east. As it is now, he has customers from Wyandotte County and Shawnee who he said want to avoid the hustle and bustle of places such as The Legends and explore small towns.
Bichelmeyer noted that taking turnpike to the revamped County Road 1 is a safer option than U.S. 24-40 from Tonganoxie to Lawrence, as the winding two-lane road is a "death trap," as he called it.
Bichelmeyer likes the draw of more visitors, but others in the community are looking down the road at the interchange's potential benefits.
The residential and commercial possibilities in the area have city leaders and business owners speculating on what could happen to the area if it begins to develop, even if it takes another decade.
Dan Lynch, owner of Lynch Real Estate, said for the next three to five years he believes there will continue to be considerable growth to the east near Kansas Speedway that will continue to draw development, but eventually it will start heading toward Tonganoxie.
"There is a promise of new growth and I look forward to seeing that," he said. "As far as how much is going to come it's hard to say with the economy the way it is. We finished up with a decent year and next year it's only going to do better.
"I've had a lot of people asking me about it so there is some excitement. I'm hoping that it brings whatever everyone thought it would bring."
Mike Yanez, city administrator, agrees and said the country's overall economic health is going to play the biggest factor in the areas development.

"Right now money is so tight," Yanez said. "Until the national economy turns around and private interest want to start putting in money into development, it's going to be pretty slow."
He doesn't expect there to be much growth in the area until the next five to 10 years, but once it kicks off he said there will be a boom in residential development, which will spawn more retail possibilities.
The city's existing businesses
Cheryl Hanback, director of the Tonganoxie Chamber of Commerce, and Keyta Kelly, of downtown's Kelly Law Office and a member of the city's retail and recruitment committee, see this as a great opportunity for business in the city.
Kelly hopes the added traffic could be directed toward the city center with a business loop and bring more exposure to the city's current businesses and even bring more original small business to the area.
Hanback said she thinks this gives the city a chance to find out what kind of business it wants to bring into downtown, but also allow other bigger retailers to find a home along the highway.
While she wants to see more development she doesn't want to see national business start to compete against local business.
"I think we want to support our local business," Hanback said. "We would not want to support competitors of a business that is already here."
There are some businesses for which the city definitely will be competing.
Planning for the future
With the recent addition of 237 acres of land to the city limits, the city is trying to prepare itself for industry coming to the turnpike.
Yanez said the city wants to be ready for industry by getting the new industrial park ready. That means getting utilities down to the property. While he expects a plan for utility placement to be finished in 2010, he said the funding of the nearly $2 million project to move utilities will need to be worked out in the future.
Yanez hopes new industry will create a domino effect that will benefit the city.
"Once our industrial park starts landing some businesses, we are definitely going to start seeing the amount of rooftops escalate," he said.
And for Yanez, the more rooftops that annex into the city the more opportunity for retail and the more opportunity for sales tax money the city could use.
Because there will be so many different factors determining the possible success of the interchange, J.W. Evans, owner of Evans Real Estate, said all of the entities in the county will need to work together because development will not happen overnight.
The future of schools
The immediate impact of the interchange might not be visible to people in the community, according to Tonganoxie schools Superintendent Kyle Hayden.
"I think that having the exit with 'Tonganoxie' on it will, over time, have an impact as they become more familiar with us and our area," Hayden said about people traveling on the turnpike.
Anticipated future growth south of Tonganoxie, as well as growth associated with the building of the Kansas City Wizards new soccer stadium in Kansas City, Kan., could mean considerable increases in enrollment.
Facility planning for the Tonganoxie school district looks at 15-20 years in the future. At this time, two additional school buildings are in future plans on the district's 80 acres where Tonganoxie Middle School is located. At a time when enrollment surpasses capacity at the Tonganoxie High School campus, the district would look to build on the south side of Tonganoxie as growth comes.
"That's hard to even comprehend at this point," Hayden said. "It's beyond our working life."
Hayden said it's his hope that development to the south of Tonganoxie is well thought out and planned and it's the right kind of progress "that is positive for us."
Lynch expects that to be the case.
"As a realtor when I look at it, it can only be a good thing in the end" Lynch said. "It will bring new growth and opportunity and I see that as being positive for Tonganoxie."
— News editor Shawn Linenberger contributed to this report.