Freshmen find groove following slow start
Kemp, Whitledge play key roles for
THS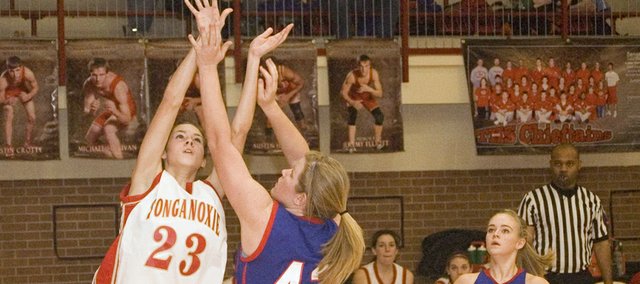 When you have two freshmen in your starting lineup, things aren't always going to click.
That was often the case for the Tonganoxie High girls basketball team in the first few weeks of December.
Coach Randy Kraft's instructions would sometimes get lost in translation — even though he was speaking plain English.
"Early on, we'd holler instructions and three of them would understand it and two of them wouldn't, and it looks really bad when that happens," Kraft said, explaining that the Chieftains' two freshmen, guard Hannah Kemp and forward Jenny Whitledge, didn't fully comprehend the team's system at first.
Although the freshmen showed flashes and certainly made plays for THS, the Chieftains struggled out of the gate, going 0-3 at the Paola Invitational, where they lost one game by 33 points.
However, with experience and knowledge growing by the minute, Kraft said the team's freshmen have been soaking things in and executing.
Their progress has been seen in Tonganoxie's results, too. As Kemp and Whitledge have improved, so has the team. The Chieftains recovered from their 0-3 start to win each of their first two Kaw Valley League games — at Perry-Lecompton and against Santa Fe Trail.
"We've got kids that are really starting to be in the right places at the right time and understand what we're trying to do," Kraft said, "so they're playing as a team a lot better."
Whitledge said it has been easy for her and Kemp to get acclimated to their varsity roles because of their teammates.
"Playing with these girls, they're so good to be around that you just feel comfortable with them," Whitledge said, "and it just goes and flows."
Only five games into her THS career, Whitledge looks like she is going with the flow. Not only did she have a 20-point outing in a loss against Bishop Ward, but she scored 15 points, pulled down six rebounds and made big plays around the basket and at the free-throw line in Tonganoxie's five-point victory against Santa Fe Trail.
Although Whitledge is thin, she's not afraid of contact and plays tough in the paint.
"She's pretty good around the basket, so we run a few things for her once in a while to try to play to her strengths," Kraft said, noting the forward's quickness and leaping ability.
Kemp, on the other hand, is showing her strength on the perimeter, handling much of the team's point guard duties.
"She's a strong kid and she does a pretty good job of taking care of the ball," Kraft said.
Although varsity defenses and their speed confused Kemp at first, which led to some giveaways, the coach said the frosh point has steadily cut those mistakes down. Kraft said THS senior Andie Jeannin has played an important role in that process because she has played the point.
"It kind of gives us two (point guards) and lets one of them rest once in a while," the eighth-year Tonganoxie coach said.
Kemp really asserted herself in the fourth quarter against SFT with her team trailing. On one possession, she drove the length of the floor for a layup. She also passed out three fourth-quarter assists.
Playing alongside Whitledge on school and competitive teams the past few years, the duo has been in sync from the start, but Kemp said her chemistry with her other teammates is improving, too.
"I feel a lot more comfortable and playing with them more, I'm learning (about) them and how they play and how they operate," Kemp said.
Tonganoxie senior guard Lauren Hall has been impressed with Kemp's ability to play lead guard.
"She doesn't tend to freak out, which has been really good for us," Hall said. "She is not afraid to drive, she is not afraid to pull up and shoot it, and she's smart about it. She knows when to take the shot and when not to take the shot."
The basketball IQ of both players, along with their natural athleticism, is what made them viable options for the THS lineup to begin with.
Their continued growth in those areas has Kraft feeling better about the team's chances — and the ability of all five players on the floor to understand what he's saying.
"The confidence is growing," Kraft said with a smile. "They're still freshmen and they're still figuring it out, but each game they're figuring it out a little bit more."
Tonganoxie's schedule resumes at 6 p.m. Friday, when the Chieftains play host to Bishop Ward.